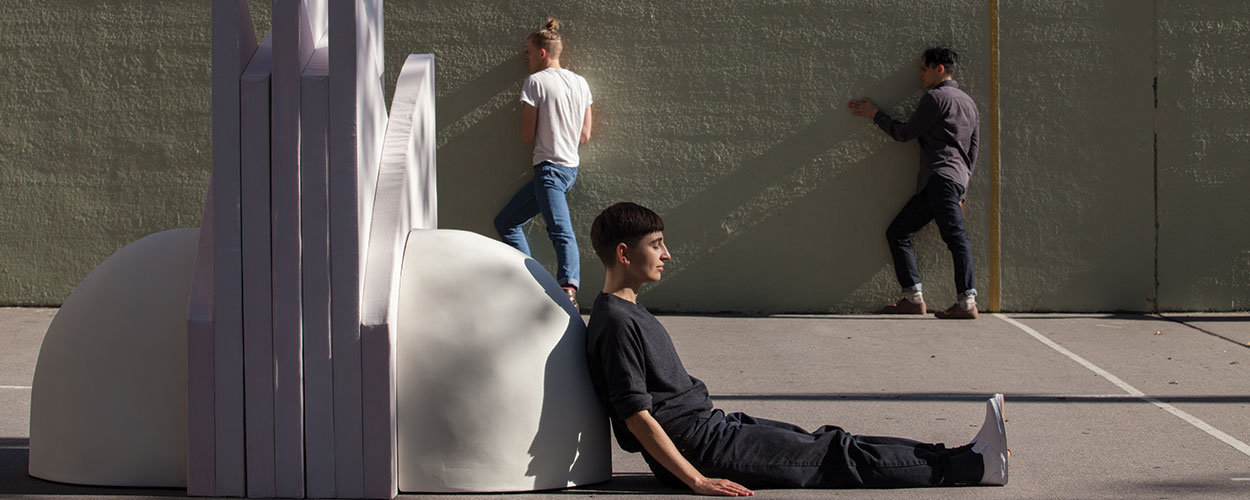 Visiting Artist Gordon Hall
The University of Maine's Intermedia MFA program is pleased to announce Gordon Hall as our next guest in the Spring Visiting Artist Lecture and Performance Series. Hall will give an artist talk on their practice and recent projects Tuesday, March 17th in the APPE Space, Room 104 of the IMRC.
Hall is a New-York based artist, writer, instructor and organizer of exhibitions who creates performances and sculptures that question aesthetics, world building, bodies and knowledge. Hall is also the founder and director of The Center for Experimental Lectures, an ongoing series of performance lectures which has been hosted by MoMA PS1, Recess, The Shandaken Project, Alderman Exhibitions, and by the Whitney Museum of American Art. These events investigate the ways in which spatial and institutional contexts inform and/or limit one's speech, thought and imagination, and experiment with, "how to talk above, around, next to, and with art, rather than about it" (from an interview with Hall in BOMB magazine). Hall has exhibited and performed at SculptureCenter, The Kitchen, Movement Research, EMPAC, and the Museum of Contemporary Art Chicago, among others. Their most recent work has been exhibited at Night Club in Chicago, The Brooklyn Museum, Kent Fine Art, Foxy Production, and at Chapter, New York. This artist talk is made possible by the Skowhegan School of Painting and Sculpture.
For more information about Gordon Hall visit:
http://www.gordonhall.net
for more information about the guest lecture series please contact sarah.hollows@maine.edu
The Masters of Fine Arts in Intermedia at the University of Maine provides substantial advanced study for individuals interested in interdisciplinary study in the arts. The program emphasizes intensive development of students' creative and innovative abilities through a diverse engagement with multiple research processes, critical thinking skills and creative production tools and technologies. The visiting artist series supports and reflects the wide variety of disciplines represented by the program including but not limited to: Art, New Media, Theater, Dance, Philosophy, Art History, Engineering, Communications, Media Studies, Music, Psychology, Natural Sciences, and others.
The Guest Lecture Series is made possible by support from the Intermedia MFA Program, the Skowhegan School of Painting and Sculpture, the Department of New Media, The University of Maine Cultural Affairs/Distinguished Lecture Series, and the Alston D. and Ada Lee Correll New Media Fund.