Program Information
The Intermedia Programs at the University of Maine provides substantial advanced study for individuals interested in interdisciplinary study in the arts. The programs emphasize intensive development of students' creative and innovative abilities through a diverse engagement with multiple research processes, critical thinking skills and creative production tools and technologies.
Faculty in Intermedia
The core faculty are experts in diverse media, experimental arts, social practices and dedicated to art as a mode of being in the world. The cooperating faculty in Intermedia are drawn from a wide variety of disciplines including Art, New Media, Theater, Dance, Philosophy, Art History, Engineering, Communications, Media Studies, Music, Psychology, Natural Sciences, and others. Students come from many disciplinary backgrounds but are united by their interest in exploring the potentials of creative work in the 21st century.
IMRC Center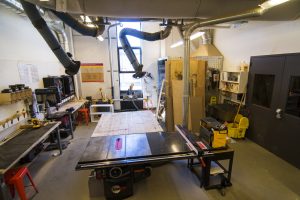 The facilities and state-of-the-art equipment in the IMRC Center, which also houses the MFA Graduate studios, strengthens Intermedia students' ability to pursue their research and creative activities, as well as to work in collaboration with business and industry throughout Maine. The Center's general aim is to develop a new 'culture' of innovation and creativity for the state of Maine by establishing needed technical facilities for continued and new training, research, development; supporting faculty collaborative research and development initiatives; and enhancing Maine's capacity to compete for external funds related to technological development by providing faculty support through access to needed research facilities.
Intermedia Program Goals and Outcomes
In the interest of preparing artists, educators and critical thinkers from diverse backgrounds to shape the future, our set of program goals and outcomes guide our development of initiatives and the priorities of our day-to-day programming.