IMRC Center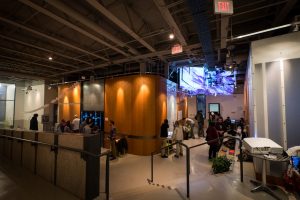 The new facilities and state-of-the-art equipment in the IMRC Center, which also houses the MFA Graduate studios, strengthens the MFA students' ability to pursue their research and creative activities, as well as to work in collaboration with business and industry throughout Maine. The Center's general aim is to develop a new 'culture' of innovation and creativity for the state of Maine by establishing needed technical facilities for continued and new training, research, development; supporting faculty collaborative research and development initiatives; and enhancing Maine's capacity to compete for external funds related to technological development by providing faculty support through access to needed research facilities. The Center includes over 4000 square foot of graduate Lab/studio space as well as a visiting artist/researcher's studio, a large prototyping and physical production facility (electronics lab, CNC machines, 3D printing, laser cutters and the like) two high end video editing facilities, a new recording and editing studio for music and sound art, two large installations and black box spaces and well a state-of -the-art seminar room, and two high end digital classrooms.
---
Spaces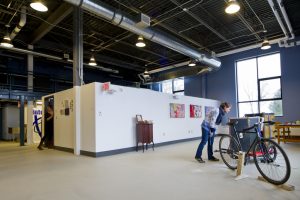 The nature and level of the facilities and equipment in the labs of the IMRC Center were selected to meet the current technology levels and requirements needed to support cutting-edge faculty research and supporting technological experimentation, advancement and production. Providing access to high-end resources will give faculty and Students a competitive advantage of cutting-edge technology, and enable Maine to become a leader of R, D, & C of innovation in the information and creative economies.
The following is a list to the primary IMRC spaces all of which are open to all graduates students in the MFA Program. Please visit the IMRC Facilities and the IMRC Equipment webpages to see more detailed descriptions.
Audio recording and production Lab

Electronic Music Studio (and foley space)

Video editing / Media Production suites (2)

Fabrication Laboratory

Prototyping Studio

Electronics Laboratory

CNC LAB

Seminar room/ HD conference room

AP/PE Space

Immersive Sound and Video Space
There are a variety of other arts and media production facilities across campus that are open 24 hours a day for all graduate students who have been OK'd for access, including digital labs, traditional print lab, sculpture facility, dark rooms, painting and drawing studios, dance studio, and a recording studio. You can take a visual tour of two of our other existing facilities here:
Lord hall digital lab and print facility
Sculpture Facility