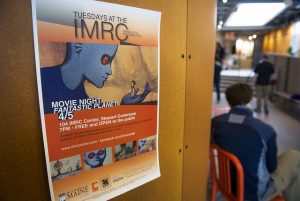 The MFA in Intermedia is an interdisciplinary program committed to arts based research, creative experimental investigations, and diverse media engagement. The Intermedia MFA is focused on the development and production in hybrid forms of art such as time-based media, digital and video art, installation, performance art, artists' books and multiples, community-based social art practices, conceptual art, net art, generative art forms (algorithmic art forms), and other new forms that the students may generate from their own intermedial explorations. These new forms are however, not without grounding in, or connections to, traditional art forms in music, writing, performance studies, media studies, and the visual arts. The term intermedia was introduced into contemporary art in 1966 by the artist, theorist, writer and founding member of the Fluxus group, Dick Higgins. His interest was to recognize the many new forms of art that were emerging in the 1960s, but to also to suggest a new way of making and thinking about art and creativity. The Intermedia MFA Program not only recognizes Higgins foundational role, but seeks to continue to support diversity in the arts, experimental modes of thinking and contemporary forms of creativity that engage with and reflect social, cultural and political concerns.
Intermedia Elements
Intermedia should also be seen as part of a process of creative innovation and question forming that spans the 20th century and now into the 21st century; from Dada and Marcel Duchamp, through John Cage and the Zen influenced arts of the 1950s into the variety of new forms and movements of the 1960s and 70s such as Happenings, Fluxus, Conceptual art, earth art, artists' books, performance art, video art and may others and into the forms of relations art and social practices of today. In all of these historic forms, in much contemporary work, as well as in the Intermedia Program itself, there can be discerned three formative questions:
What are the materials of art?
What is the relationship between the artist/work and the audience?
What are the processes of manipulation/creation available to the artist?
It is these questions that the MFA Program helps students answer for themselves as the develop their practices as professional creative producers.