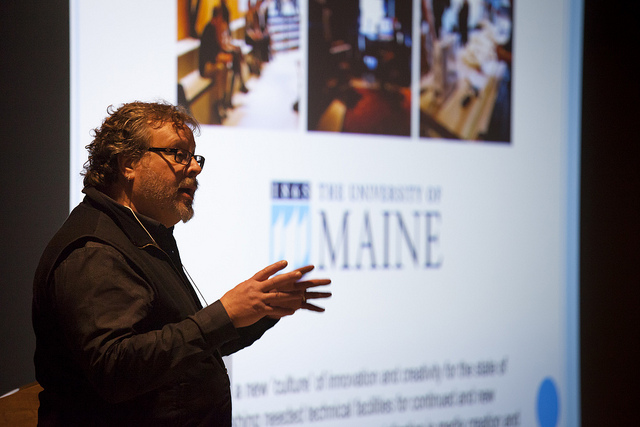 Still time to apply for Intermedia MFA program and scholarships
It's grad school application season. It's a busy time for everybody, and deadlines are just around the corner. The good news is, there is still time for you to apply for the Intermedia MFA program at the University of Maine. The University of Maine offers over $250,000 in University fellowships and scholarships each year. To be considered for acceptance to the program, apply by February 28. Visit our Intermedia MFA application process webpage and when you are ready to apply visit the Graduate School online application.
The Intermedia program and the New Media Department offer departmental graduate assistantships to qualified students. Graduate assistantships can take the form of either a Research Assistant or Teaching Assistant position. Depending on student's skills and experience. Research Assistants are involved in a variety of research and program support roles while working with faculty across multiple affiliated departments. Teaching assistantships are offered in conjunction with undergraduate New Media classes and are a great opportunity for graduate students to receive valuable experience as educators.
In addition, the University of Maine also offers full scholarships to students of Native American descent as well as discounted in-state tuition and fees for all New England residents.
The Intermedia MFA program is a unique program that provides students with advanced study and practice in interdisciplinary art. The MFA in Intermedia is a studio-centered creative interdisciplinary program committed to hybrid research, experimental technological production, a well as the individually guided development and production of hybrid forms of art such as time-based media, digital and video art, installation, performance art, artists' books and multiples, conceptual art, community-based social art practices, net art, and other new forms that the students may generate from their intermedial explorations. Visit the Intermedia Programs website for more information on this program.
 The MFA program hosts a robust visiting artist series, that brings a diversity of talent, perspective, and experience through regular workshops, performances, lectures and studio visits.
Graduate students also have access to the Innovative Media Research and Commercialization Center. The IMRC Center is a state of the art facility with over 1500 square feet of studio, tools, facilities, and knowledge. Opened in 2013, the IMRC Center is a hub for learning, creating and producing. It is the most recent of the portfolio of the University of Maine's facilities that support innovation and economic development. The IMRC Center is supported by a range of expert instructors and a community of collaborators. Visit the IMRC Center website for more information.