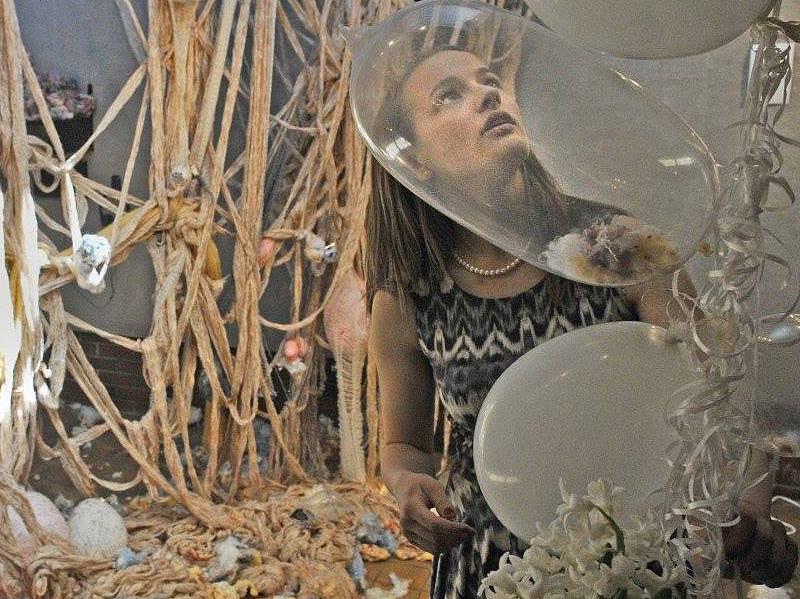 Student Snap Shot: Sierra Meservey
Sierra Meservey is a first year Intermedia MFA Graduate student. She graduated in with a B.A. in Art with a concentration in Drawing from the University of Maine at Augusta in 2015. Sierra is a performance artist who works with a range of mediums including fiber, glass, paint, and even common household items. Her work explores personal connections: how they can both strengthen and weaken us as well as entangle and strangle. She asks how a beautiful web can become tangled, and how we can maintain relationships without them resembling a leash or tether. Using hair, fibers, and scans, her work visually explores the complexity, absurdity, vulnerability and power of human interconnectedness.
As part of her recently completed work, Sierra's Lady in Training included a time-based public performance as a part of her Studio Critique, a required class for all Intermedia MFA students.
Lady in Training is a 6-hour long performance, in which an unwed, but wishful woman sits in a 4'x4'x4' structure, full of joy while she folds linens, polishes dishes, empty picture frames, candle sticks, and tall cylindrical vases as preparatory steps for the man of her dreams. She does so while wearing silk gloves, a veil, and a full wedding dress.
Upon approaching the small boxes, the audience can see no apparent way for the debutante to enter or exit the box and viewers are forced to view from a seated position, or on their knees to get a better view. While looking in the box, nothing more than a piece of glass and about 6 inches separate the performer and her audience, yet she remains unfazed as she knits and polishes blissfully on.
To learn more about Sierra and see her work, visit her at http://www.sierrameservey.com/