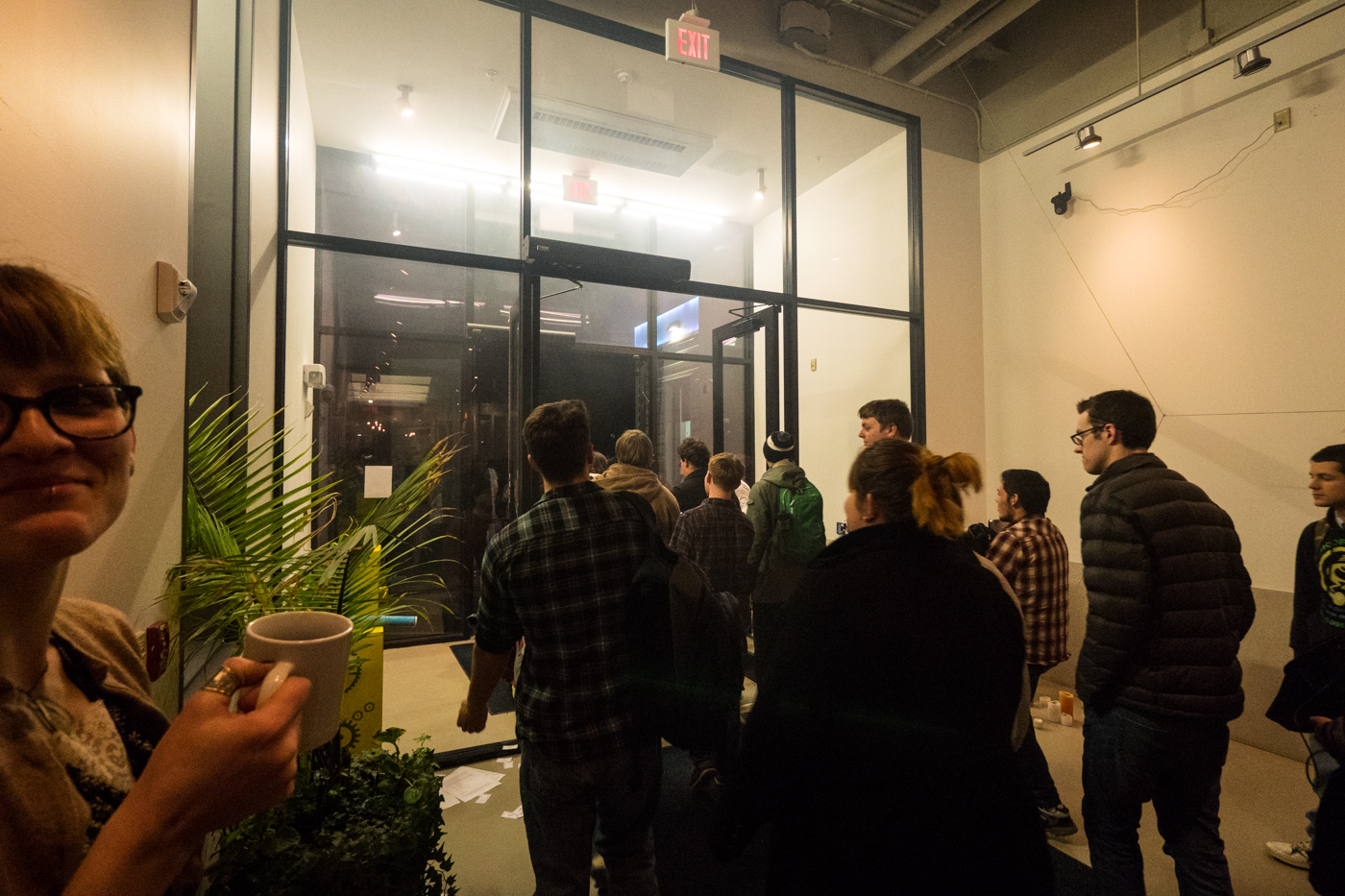 Featured Student: Sarah Hollows
Sarah Hollows is a second year Intermedia MFA student. Her body of work while in the program is not only extensive, but also powerful and dynamic. A poet, performer, and avid mask maker, Sarah brings an eclectic and valuable set of skills to the Intermedia community. She is also one of the artists, along with Rachel Nelson and Kris Mason, responsible for creating the the new coffee shop, Hide and Seek, located in the lobby of the IMRC Center.
Originally from Minnesota, Sarah discovered Intermedia through a number of different resources, but her interest really piqued after being "…introduced to the idea of intersectionality while studying critical race theory… Somehow my interest in reading the world from a critical context led me to wanting to engage with it from an artistic context, and somewhere in there I found Intermedia."
Sarah's discovery of Intermedia also led to a realization: "It made sense to me as a way of bridging wildly differing disciplines and modes of communication in an effort to better understand the world and commune/communicate with others about it in the hope of finding a better way of being in it." This desire to better understand the world, and connect with others on multiple levels, is an element that seems to be thematically present in much of her work, either on the surface or just below.
[fusion_builder_container hundred_percent="yes" overflow="visible"][fusion_builder_row][fusion_builder_column type="1_1″ background_position="left top" background_color="" border_size="" border_color="" border_style="solid" spacing="yes" background_image="" background_repeat="no-repeat" padding="" margin_top="0px" margin_bottom="0px" class="" id="" animation_type="" animation_speed="0.3″ animation_direction="left" hide_on_mobile="no" center_content="no" min_height="none"]
Presently, she is working on a new project with "long time friend and artistic comrade," Kris Mason. The piece is titled HOLDING ON / LETTING GO, and although much of it is still in process, she mentioned the following, " All I can say about it right now is that it involves a parachute, ropes and as many electric fans as we can acquire." The two are exploring the concepts of "…falling, flying, motion, stillness, tension, connection, expansion, levity, bursting, supporting, lifting, lightness, gravity, loss, and heights."
This project, HOLDING ON / LETTING GO, and many of her previous pieces, demonstrate Sarah's passion for creating work that is connected to the community around her and at large. She states, "I'm interested in making work that is informed by and evolves within a specific space/place/community, and with people who give a damn about being good to one another and offering generous amounts of kindness in the process of building something together…"
The Intermedia community is certainly looking forward to seeing the final result of her and Kris's work![/fusion_builder_column][/fusion_builder_row][/fusion_builder_container]