Intermedia MFA Fall 2020 Visiting Artist Lecture Series
Farah Al Qasimi
 Farah Al Qasimi (b.1991, Abu Dhabi, United Arab Emirates; lives and works in Brooklyn and Dubai) works in photography, video, and performance. Her recent commission with Public Art Fund, Back and Forth Disco, is on view around New York City through May 17. Her work has been featured in exhibitions at Jameel Arts Centre, Dubai; the San Francisco Arts Commission, San Francisco; the CCS Bard Galleries at the Hessel Museum of Art, New York; Helena Anrather, New York; The Third Line, Dubai; The List Visual Arts Center at MIT, Cambridge; the Museum of Contemporary Art, Toronto; and the Houston Center for Photography, Houston. Al Qasimi received her MFA from the Yale School of Art. She has participated in residencies at the Delfina Foundation, London; the Skowhegan School of Painting and Sculpture, Maine; and is a recipient of the New York NADA Artadia Prize and the Aaron Siskind Individual Photographer's Fellowship. Her work is in the collections of the Museum of Modern Art, New York; Museum of Contemporary Art, Chicago; Massachusetts Institute of Technology, Cambridge; and NYU's Grey Art Gallery, New York. Links to my recent show here: https://www.dropbox.com/sh/a3lgy16txhj6ns6/AAC-58eA3yszp31ihVCrxaQ_a?dl=0
Krista Caballero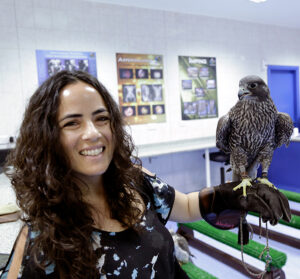 Krista Caballero is an interdisciplinary artist exploring issues of agency, survival, and environmental change in a more-than-human world. Moving freely between traditional and emerging media, her work explores the messy and often surprising encounters between human, ecological, and technological landscapes. In 2010 she created Mapping Meaning, an ongoing project that brings together artists, scientists, and scholars through experimental workshops, exhibitions, and transdisciplinary research. Caballero was selected as a 2017 Smithsonian Artist Research Fellow and is now a Smithsonian Research Associate working with the National Museum of Natural History researching the cultural implications of bird species decline. Her work has been presented across the United States, as well as internationally in exhibitions and festivals such as the International Symposium on Electronic Art (ISEA) in Dubai and New Mexico; the North American Ornithological Conference; "Paradoxes in Video" at Mohsen Gallery in Tehran; EXTREME. ENVIRONMENTS / RAY2018 Photo Triennale in Germany; and Balance-Unbalance International Festival in Queensland, Australia. Caballero received her MFA from the School of the Museum of Fine Arts/Tufts University and is currently the Associate Director of the Center for Experimental Humanities (EH) at Bard College.
Allison Maria Rodriguez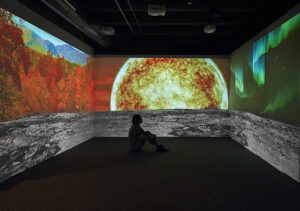 Allison Maria Rodriguez is a first-generation Cuban-American interdisciplinary artist working predominantly in video installation. Her work focuses extensively on climate change, species extinction and the interconnectivity of existence. Through video, performance, digital animation, photography, drawing, collage and installation, Rodriguez creates immersive experiential spaces that challenge conventional ways of knowing and understanding the world. In addition to her art practice, she is a curator, educator and arts organizer – and was appointed as the Assistant Director at Boston Cyberarts this summer. Rodriguez is a grand prize winner of the Creative Climate Awards sponsored by The Human Impacts Institute and she was also recently awarded an Earthwatch Communications Fellowship for a residency at the Churchill Northern Studies Centre to work on their "Climate Change at the Arctic's Edge" project. In 2019, she was honored by WBUR's The ARTery as one of "The ARTery 25", a celebration of 25 millennials of color impacting Boston's arts and culture scene.
Jodi Clayton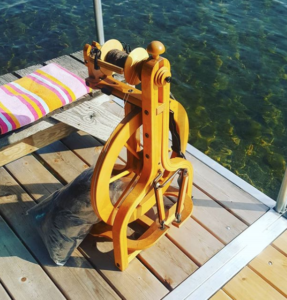 Jodi Clayton is a Maine fiber artist and owner of One Lupine Fiber Arts store in Bangor, Maine which she founded in 2002. Her business began and has grown with her deep love of wool and natural fibers. She has a rich background in knitting, spinning, felting and textile design.