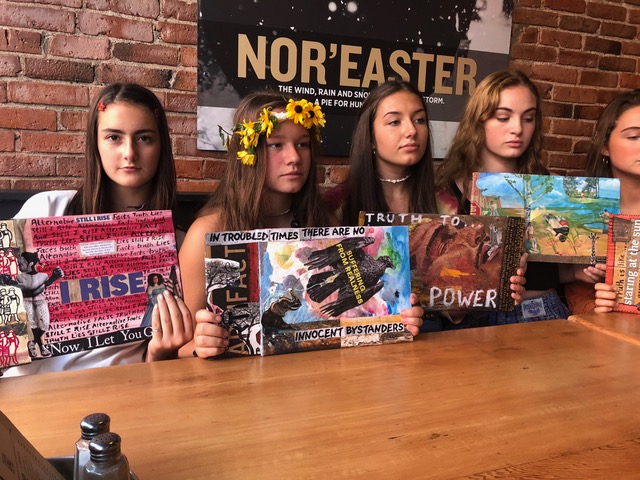 Adele Drake
"I was determined to learn to paint, but I would always feel the pull of making performative and site specific work. I would also always feel the pull to be a teacher." -Adele Drake
Adele Drake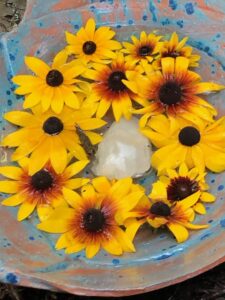 Adele Drake was born and raised in the city of Philadelphia she is of Irish, Swiss-German, and Italian descent. Living in Philadelphia enhanced Drake's love of the arts, she has vivid memories of the time spent painting and studying art history at school. The Philadelphia Museum of Art was also a place that had a great influence on Drake. She attended a Vincent Van Gogh Exhibition in the early '70s after that I was hooked for life on the study of art. Drake received her undergraduate degree in art and history at Gettysburg College which opened up her understandings of contemporary art. She continued to pursue her degree at the University of Pennsylvania, "When I enrolled at the University of Pennsylvania's graduate school for an MFA in painting under Neil Welliver, I was determined to learn to paint, but I would always feel the pull of making performative and site-specific work. I would also always feel the pull to be a teacher." This pull led Drake to her current career as an art teacher, which enables her to blend her knowledge of artmaking and art history into a performative collaboration in the classroom setting. "Getting a degree in the Intermedia Program at the University of Maine has allowed me to feel like every aspect of my interests in being an artist and art teacher are being nurtured, challenged, and developed." Her goal here at the University of Maine is to be a part of a community of artists both at the University of Maine and as a visual arts teacher at Hampden Academy. Drake believes the work she has created and the experiences in the IMFA program have greatly supported and influence her work as a teacher. She hopes that through the support and influence of getting this degree can impact her community locally and globally.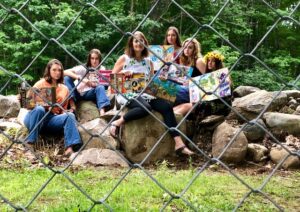 Drake is consumed with the idea that her experience of each moment, her awareness of each moment, her connection to each moment is art. How she feels and experiences her life is a form of art and she is committed to employing all her thoughts, words, and actions into making her life a form of art. This is one of the reasons that she is drawn to the intermedial approach. She can integrate traditional and non-traditional media to express her life as art. Drake is influenced by natural processes and the mystery and wonder of the Universe on the micro and macro levels. Drake would like her work to say what needs to be said through her. Her recent work was attempted to speak to and for water, which she believes is a life-giving, living entity. She believes a river should have rights, rights to be healthy and alive and in turn it will keep an entire ecosystem alive.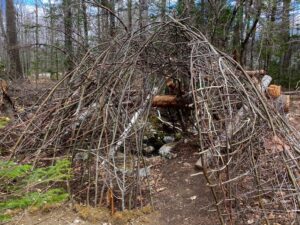 Water is the element that Drake enjoys working with the most and considers it as the world's greatest solvent, it relates to other media like natural dyes that can be used to paint with or dye fabrics, make paper, and print paper, trees, and plants. All of these elements work together to become a way of speaking for water, a way that is not grounded in exploitation but in gratitude. For example, In her most recent piece Grotto Refugia: A Space For Water, she states, "We have come to a fork in the road where we will either further degrade through the poisoning of water or we will develop a culture that is based on healthy water. In this project, A Space for Water I create a place to sing to the water, the birds, the crickets, the frogs, and the songs of nature are held in this space. It is a space where ceremonies of love and gratitude for water can take place. It is a place where people can heal themselves by listening to the sound of water as it flows over rocks. In A Space for Water there is an ephemeral stream where the desire line of water runs down to the Penobscot River. As the water flows over the rocks in vortices it becomes oxygenated and mineralized. It is exposed to the electromagnetic fields and the energy of the earth and the Cosmos. This includes the sounds and intentions of the ceremonies which work to structure the water and bring the water from a degraded state into a coherent state. The goal of this piece is to protect, honor, and celebrate life-giving water."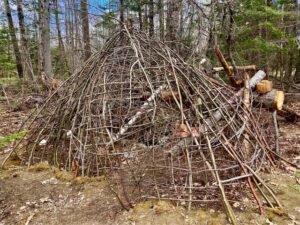 Water is Life and honoring it and using it as a material in my work is a thread that runs like a stream throughout. Water is the definition of embodied research because 90% of our cells are water and 60% of our total body is water. When Drake uses water as a material in her work it is to honor all of life including the water inside of us, she uses thoughts, actions, intentions, sound vibrations, and a state of consciousness to bring water into a harmonious and highly structured state. Her goal in doing this is to benefit all living beings so as to preserve culture and community for generations to come.
An example of Drake's performative work below.
https://www.facebook.com/adele.drake.9/videos/pcb.2504029212941632/2504028679608352/?type=3&theater