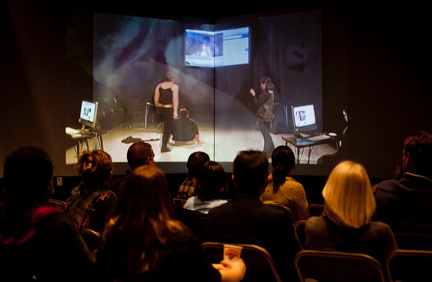 New MA in Intermedia Offered at UMaine
The University of Maine Intermedia Program is pleased to announce the establishment of a new MA in Intermedia. Approved in December of 2018, this new MA degree is a 2 year master's level interdisciplinary and creative focused degree program within the Graduate School for students interested in pursuing advanced, interdisciplinary creative works and research studies in areas of inquiry pertaining to arts praxis, fine arts, media arts and technologies, creative studies and applied arts. As in the Intermedia MFA, the aim of this work in the MA is to learn by doing and making, with classes centered on hands-on projects, intellectual curiosity, and a practical concern for outcomes and engagements.
All of the Intermedia Programs (MA, MFA and IPhD) at the University of Maine provides substantial advanced study for individuals interested in interdisciplinary study in the arts. The program emphasizes intensive development of students' creative and innovative abilities through a diverse engagement with multiple research processes, critical thinking skills and creative production tools and technologies.
Building on the academic strengths of the existing Intermedia MFA and the cutting edge facilities and programing of the Innovative Media, Research and Commercialization Center (IMRC Center), the MA program is designed to establish a multifaceted set of opportunities for expanding graduate education in the arts and creative fields. The overarching goal of the MA in Intermediais to re-envision creative teaching/ learning/ research models with an aim to resituate creative practice within larger knowledge-making practices and expand its impact and range. To do this the program is designed to support the creation of a diverse collaborative ecology of experimental research and pedagogy. Linking both technology and media production and innovative problem solving within arts, social sciences and sciences this program is intended to be both a stand alone degree but also an umbrella arts degree for future areas of interdisciplinary expansion.
For more information of the Intermedia Programs please visit the Intermedia website. For more information on the MA and how to apply for this program please visit the MA Program webpage.
For more information, please contact Dr. Owen F. Smith, Director of the Intermedia Programs, or call 207-299-2418