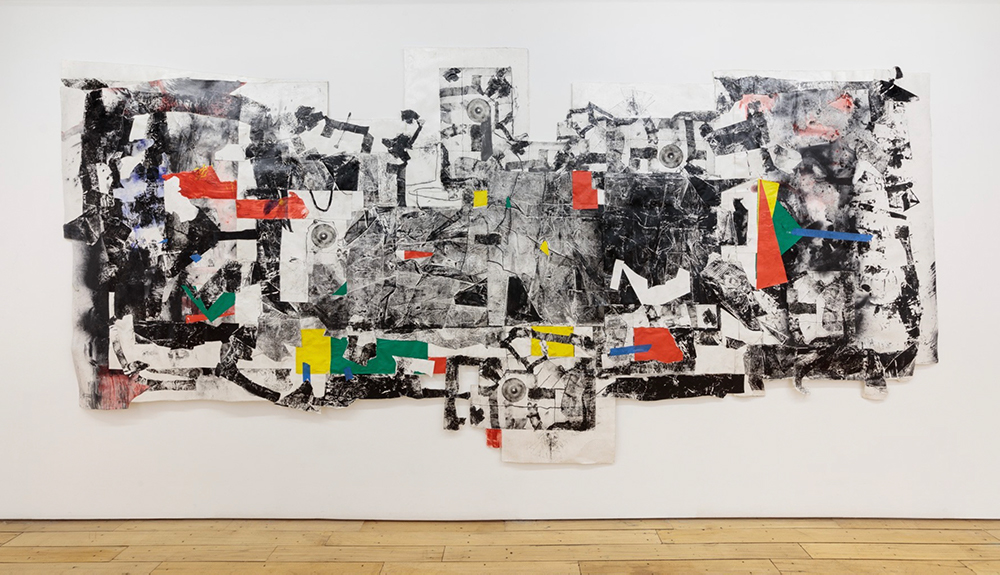 Think-making: Cullen Washington Jr. at Tuesdays at the IMRC
On October 30th, 2018 the University of Maine IMFA Program welcomed Cullen Washington Jr. to speak to students and faculty about his process and work. Cullen Washington utilizes the grid to communicate humanity and inter-connectedness. He describes his collage abstract paintings as non-representational fields of activity. Washington has shown nationally and internationally including the Queens Museum, the Contemporary Arts Museum Houston, Saatchi Gallery London and the Studio Museum in Harlem. He will be a resident at The Joan Mitchell Foundation New Orleans later this fall and has been a resident at The Studio Museum in Harlem and the Skowhegan School of Painting and Sculpture. He is the recipient of a Joan Mitchell Foundation Award and in the collections of the Metropolitan Museum of Art, Studio Museum in Harlem,  Charles Saatchi Gallery, and the Alexandria Museum of Art, Louisiana.
Washington describes his work as abstract paintings but notes that he incorporates paper, tape, charcoal and other materials in the process of creating. He describes his work as "Think-making", a term he uses frequently to describe the ability to take thoughts and manifest them into something tangible. In a colorful array of stories from his childhood, Washington tells of how he identified as an artist at a very early age. The idea of being able to create something that he wanted to have by sketching or otherwise making it, gave him a sense of some satisfaction and an outlet for exploring a broader concept of what success meant.
In his travels, Washington began to form ideas around "meeting places" inspired by his travels to Italy where he was struck by the huge plazas in which all manner of activities take place. These Agoras(Italian) or public squares, form opportunities for people to come together to people watch, meet-up, protest or otherwise congregate. He notes that these public spaces are usually ornately decorated, with sculptures, water fountains and are designed to hold larger crowds. Washington brings these ideas into a recent series of large panels, bringing together various techniques to create harmonious works of art that explore repetition, symmetry and attention. These pieces are mixture of collaged paint, drawing and printmaking techniques on Hahnemuhle Copperplate and can span 20 feet along the wall. When asked by a student how he knows when a piece is finished, Washington replied "When you have worked enough creating many pieces, you begin to get a sense of when you are close. You just know when it looks right."
The Intermedia MFA Tuesdays at the IMRC Lecture Seriesprovides the UMaine, Orono and Bangor community with a diverse schedule of compelling speakers, and performances by contemporary and interdisciplinary artists and performers from around the country and world. All events are free, open to the public and take place at the Innovative Media Research Commercialization Center, located in Stewart Commons at the University of Maine, at 7 p.m. on Tuesdays throughout the semester.
Intermedia News by Tilan Copson