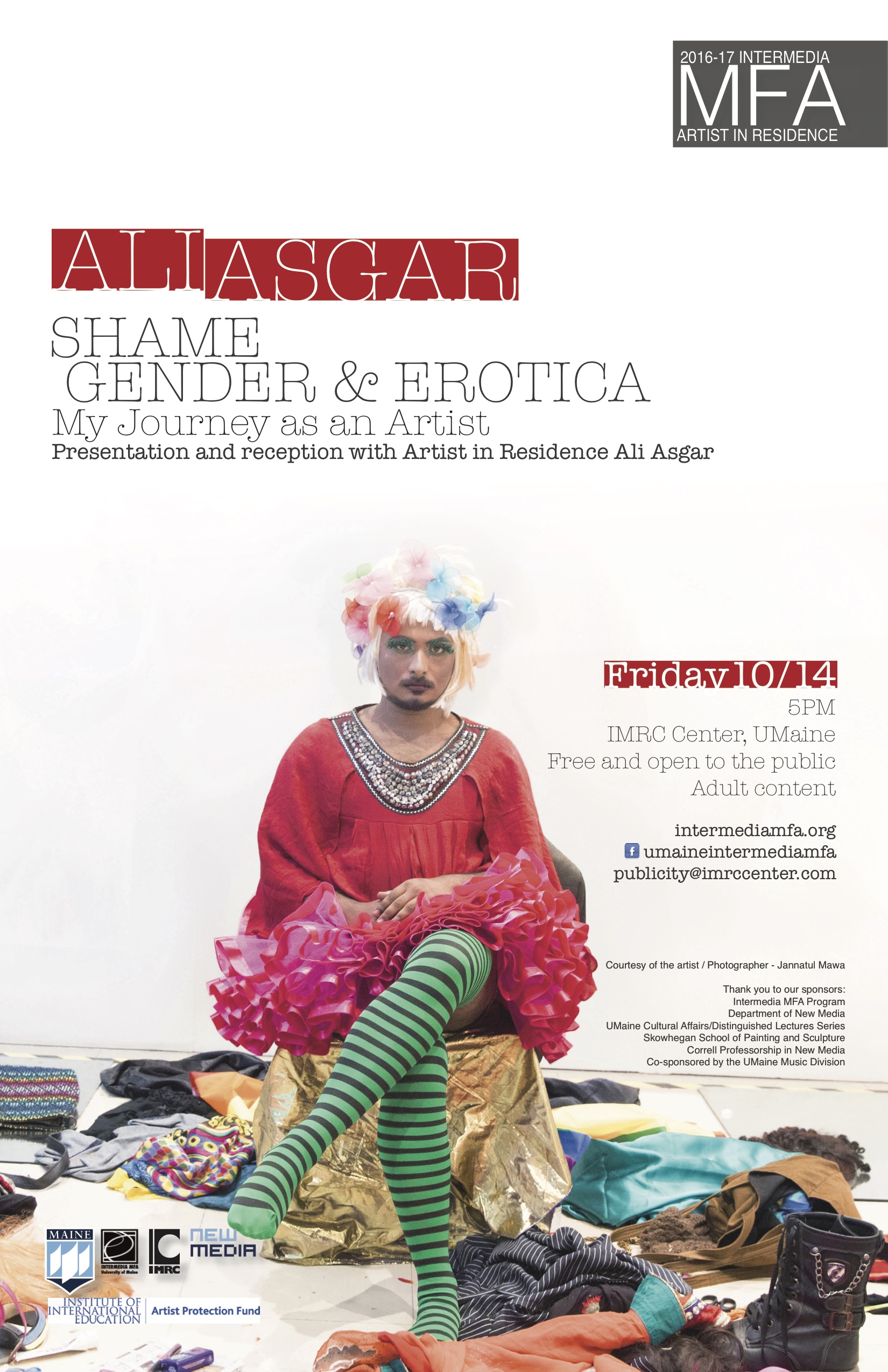 SHAME, GENDER & EROTICA: My Journey as an Artist by Ali Asgar
Multidisciplinary visual and performance artist Ali Asgar recently arrived to Orono by way of Bangladesh. Ali identifies as queer and produces work that explores gender minorities and queer identity. Through performance and visual narratives Ali aims to push the boundaries of gender norms and create a space for discussion surrounding these topics.
Ali will be in residence at the University of Maine with the Intermedia MFA program for the 2016-17 academic year. Ali is an Artist Protection Fund Fellow, a program that provides lifesaving grants and fellowships allowing threatened artists to safety continue their work in host universities and art centers around the world.
"My work does not only talk about my struggle and journey as a Bangladeshi LBGTQ community member," states Ali, "but it also reflects upon the lives of the sexual minority community in Bangladesh." Ali's work surrounding gender, sexuality, and social taboos often reflects upon their personal struggle with the conservative Bangladeshi attitude towards members of LGBTQ communities. In their work, they use their own body and self-imagery as a rudimentary element to walk the line between reality and the artifice of self-analysis. While in residence Ali plans to continue their current projects which are politically inspired and emphasize trauma, dislocation, isolation, body politics and queer identity. To learn more about Ali's work, visit www.aliasgarart.com.
With a BFA in Printmaking from the Faculty of Fine Arts from the University of Dhaka, Ali has participated in major group exhibitions including the Dhaka Art Summit in 2016 and 2014, the Kolkata International Performance Festival in 2016, the Dhaka Social Art Festival, (Dhaka Art Center) in 2014 and SEA Juried Art Show (Lislie) in Chicago in 2014, 15 Asian Art Biennale in 2013 among many others. Ali was also shortlisted for Aminul Islam Young Artist Award 2015, and the Young Asia 2016 Future Generation Art Prize 2016. Their work has also been featured at Freeze Art Magazine in London, the Depart Art Magazine in Bangladesh and mentioned by critic Hans Ulric Obrist in the international circuit. Ali recently completed a solo performance show entitled Shameless at the Edward M. Kennedy Center (EMK) this past year in Dhaka, Bangladesh.
To kick off the yearlong residency Ali invites the community to a performative presentation of their work and a reception. Shame, Gender and Erotica: My Journey as an Artist will take place on October 14th at 5:00p.m. at the IMRC Center at the University of Maine. Aliís performance will be followed by a Q&A and reception with light refreshments. This presentation and reception is free and open to the public. For more information, please contact Eleanor Kipping at publicity@imrccenter.com or visit www.intermediamfa.org/lectures2016.
Photo credit: Courtesy of the artist / Photographer – Jannatul Mawa