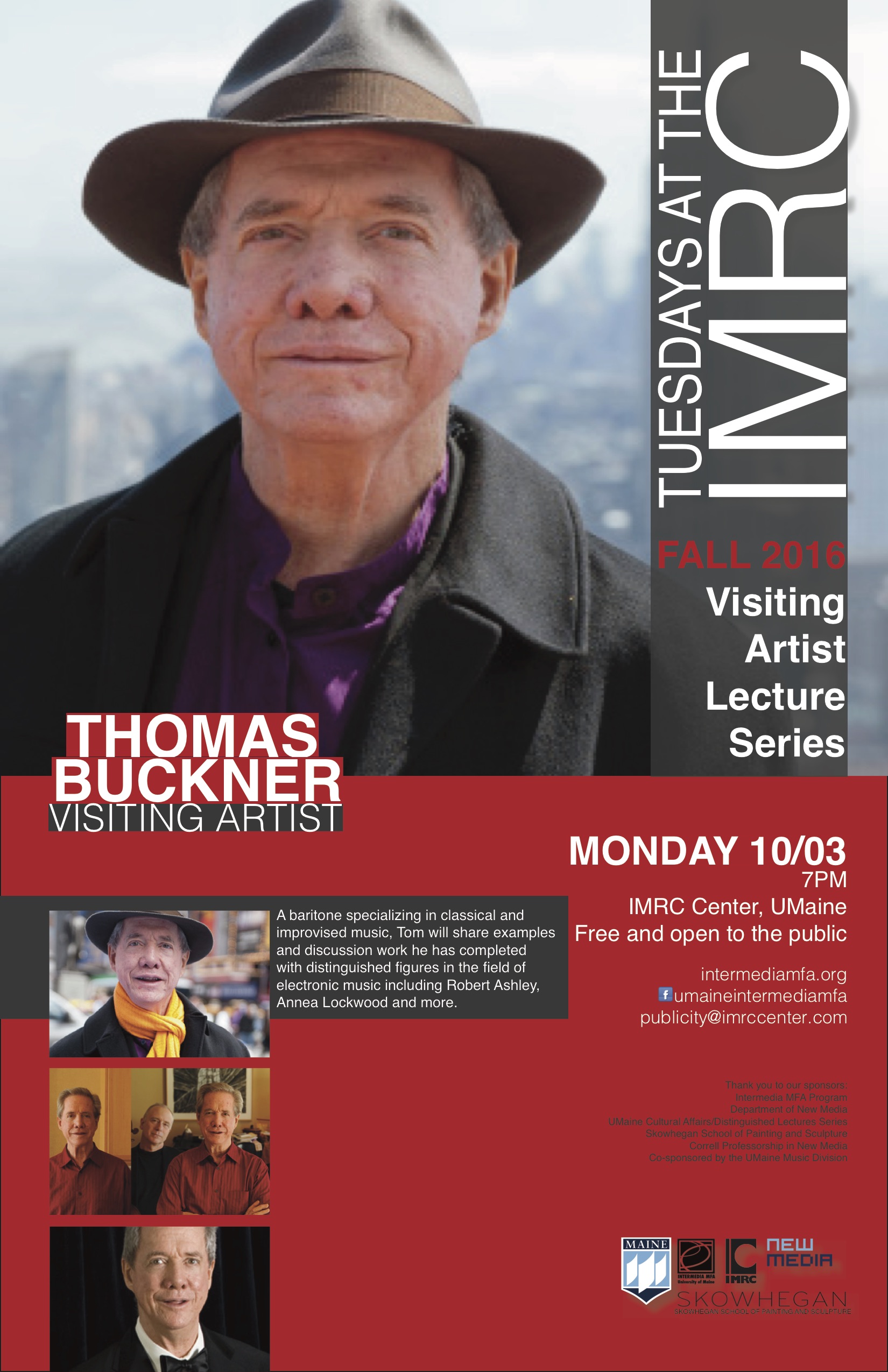 Baritone Thomas Buckner to visit UMaine and IMRC Center
On October 3rd at 7pm, Tuesdays at the IMRC the UMaine Intermedia MFA visiting artist lecture series, will shake it up with a Monday evening lecture with a visit by Thomas Buckner.
For decades, baritone Thomas Buckner has dedicated himself to the promotion and performance of new and improvised music, collaborating with a host of new music luminaries including Robert Ashley, Noah Creshevsky, Tom Hamilton, Earl Howard, Matthias Kaul, Leroy Jenkins, Bun Ching Lam, Annea Lockwood, Roscoe Mitchell, Phill Niblock, Wadada Leo Smith, Chinary Ung, Christian Wolff and many others.
Buckner has appeared at Lincoln Center, Carnegie Hall, the Herbst Theatre, the Art Institute of Chicago, the Berlin Spring Festival, the Huddersfield Contemporary Music Festival, the Prague Spring Festival, and the Angelica Festival of Bologna. He is featured on over 50 recordings, including 6 solo albums, the most recent being "New Music for Baritone & Chamber Ensemble," which includes works by Annea Lockwood, Tania Leon, and Petr Kotik. For the past twenty-five years Mr. Buckner has curated the Interpretations series in New York City, and continues to produce recordings on the Mutable Music label, introducing current artists and repertoire, as well as presenting important historic material, previously unavailable in CD format.
This presentation is free and open to the public and will take place at 7pm at the IMRC Center at the University of Maine. For more information, please contact Eleanor Kipping at publicity@imrccenter.com or visit www.intermediamfa.org/lectures2016