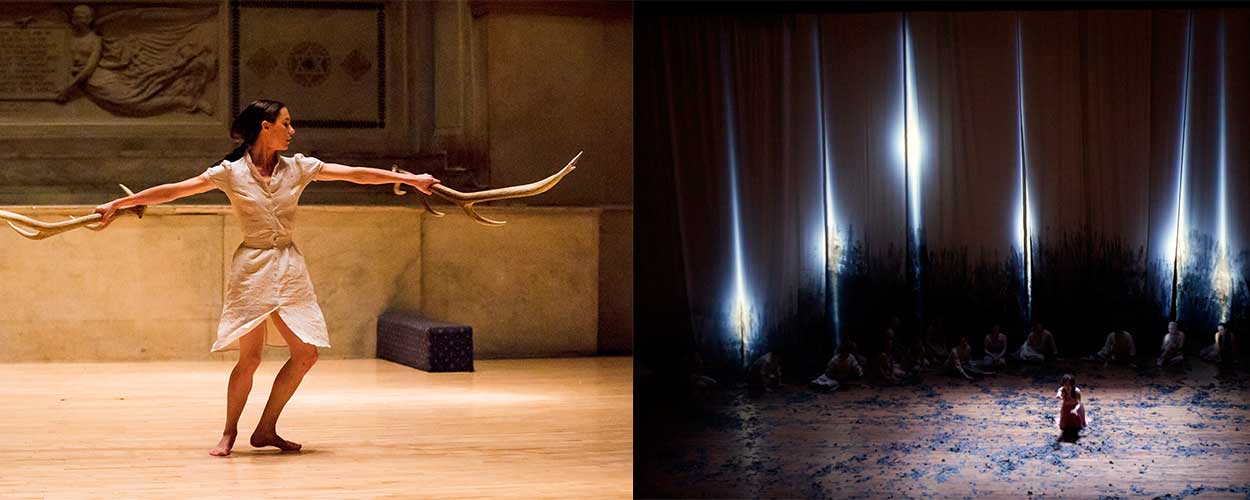 Visiting Artists Janice Lancaster Larsen and Adam Larsen
The University of Maine's Intermedia MFA Program is pleased to announce our next pair of visiting artists in the spring guest lecture series, Janice Lancaster Larsen and Adam Larsen. There will be a performance and presentation of their collaborative work Tuesday, April 14th at 7:00PM in the APPE Theater space of the IMRC at UMaine's Orono campus. In collaboration they will present Caryatid, a short dance performance in which simple mapping techniques projected onto 12 PVC columns create a forest and its psyche. After the performance they will discuss the creative, technical, and practical challenges involved in designing video projections for live performance.
Janice Lancaster Larsen is a freelance dance artist who tours with Shen Wei Dance Arts. Adam Larsen is a freelance projection designer and filmmaker. Sometimes their projects align and they make immersive performance environments and dance films. Their performed collaborations have been presented by the Bessie Schönberg Choreographic Residency (Chilmark, MA), Black Mountain College Museum + Art Center (Asheville, NC), and VIA Dance Collaborative (New York, NY). Their films have been presented by Dance Space's TV Dinners Festival (London), Galapagos Art Space's Frameworks Film Series (NYC), The Flea Theater (NYC), Performática (Cholula, Mexico), and The Casa Hoffman (Curitiba, Brazil). They have worked together on productions with the San Francisco Symphony (CA), Bard Music Festival (Hudson, NY), The Honolulu Theatre for Youth (HI), and Fulton Opera House (Lancaster, PA).
In addition to their performance and talk, Adam and Janice will host a workshop involving projection mapping software as well as related tools and techniques, craft and technologies of production, socially engaged art, and collaboration Wednesday, April 15th in the APPE Theater space of the IMRC from 10:00AM – noon.
For more about Adam Larsen and Janice Lancaster Larsen visit:
www.hum-bar.com
www.janicelancaster.com
For questions about this or any of our other visiting artist events, please contact:
sarah.hollows@maine.edu
The Masters of Fine Arts in Intermedia at the University of Maine provides substantial advanced study for individuals interested in interdisciplinary study in the arts. The program emphasizes intensive development of students' creative and innovative abilities through a diverse engagement with multiple research processes, critical thinking skills and creative production tools and technologies. The visiting artist series supports and reflects the wide variety of disciplines represented by the program including but not limited to: Art, New Media, Theater, Dance, Philosophy, Art History, Engineering, Communications, Media Studies, Music, Psychology, Natural Sciences, and others.
The Guest Lecture Series is made possible by support from the Intermedia MFA Program, the Skowhegan School of Painting and Sculpture, the Department of New Media, The University of Maine Cultural Affairs/Distinguished Lecture Series, and the Alston D. and Ada Lee Correll New Media Fund.