Year in Film 2 Almost Finished with Short Film
The New Media and Intermedia course, Year in Film 2, is currently finishing filming and will begin post production work in the coming weeks.  It's an exciting time for the students as their work enters the final stretch.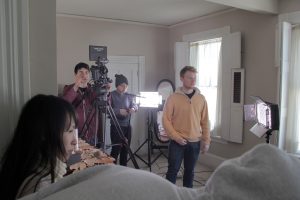 Recent shoots have allowed students a hands on opportunity to work with high level equipment such as the IMRC's RED camera, Zeiss Lenses,  and LED lighting kit. In addition to working with the gear, students managed actor schedules, wardrobes, and locations as well.
With shooting almost a wrap, the final editing phases will take place. Students will work in specified teams to help tackle the final remaining hurdles. Those teams are dependent on the student interests and will revolve around the primary editing of the film, color correction, marketing, music, and the creation of the film's trailer.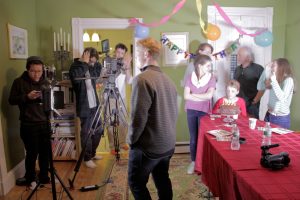 Many of the current students in the class have been involved with the project since its inception, which stretches all the way back to the start of the Fall Semester. With such an immense amount of time invested, both the graduate and undergraduate students are excited to see the end result.
A premiere date for the film is set for April 24th. More information about time and place will follow shortly.