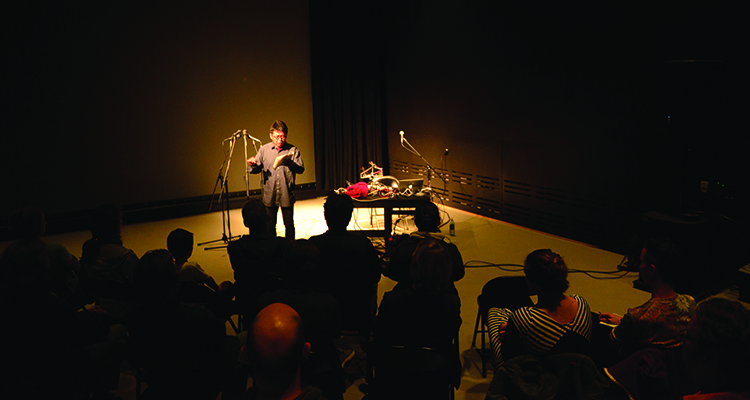 Spring 2015 Visiting Artist Lecture and Performance Series
The University of Maine's Intermedia MFA Program is pleased to announce our Spring Visiting Artist Lecture Series. We have a wide array of multi-/interdisciplinary artist researchers joining us for artist talks, workshops, studio visits and performances. Unless otherwise noted all of the events will be held at 7:00 pm in Room 104 (the black box theater/APPE space) of the IMRC at the University of Maine in Orono. Please stay tuned for more details on each event in the coming weeks.
Dawn Stoppiello is our first visiting artist scheduled to present on her work Wednesday, February 25th in Lord Hall at the University of Maine in Orono. Stoppiello is a choreographer and conceptual artist whose primary material is the human body in action. Stoppiello's current work intentionally straddles the two simultaneous realities that occur in performance: the real people on "stage" and in the audience, and the fantasy being created by the event. Her performances become an examination of how meaning is created in the encounter between performers and viewers. Most recently her works have been seen via her Salon du Garage series: after years of performing in the grand spaces of German opera houses, festivals in Monaco, and New York City theaters, Dawn Stoppiello now also presents intimate performance installations in her home and garage in Portland, OR, in which performance is construed as an "everyday" act as valuable as working in the garden or making dinner. With composer Mark Coniglio, Stoppiello began innovating and experimenting with computer technology in live performance in the late 1980s, co-founding the critically acclaimed performance ensemble Troika Ranch with Coniglio in 1994 and co-conceiving and choreographing over twelve major works for the company since then.
For more information about Dawn Stoppiello and Troika Ranch visit:
www.troikaranch.org
Gordon Hall will present on their work Tuesday, March 17th at the IMRC. Hall is a New-York based artist, writer, instructor and organizer of exhibitions who creates performances and sculptures that question aesthetics, world building, bodies and knowledge. Hall is founder and director of The Center for Experimental Lectures, an ongoing series of performance lectures which has been hosted by MoMA PS1, Recess, The Shandaken Project, Alderman Exhibitions, and by the Whitney Museum of American Art. These events investigate the ways in which spatial and institutional contexts inform and/or limit one's speech, thought and imagination, and experiment with, "how to talk above, around, next to, and with art, rather than about it" (from an interview with Hall in BOMB magazine). Hall has exhibited and performed at SculptureCenter, The Kitchen, Movement Research, EMPAC, and the Museum of Contemporary Art Chicago, among others. Their most recent work has been exhibited at Night Club in Chicago, The Brooklyn Museum, Kent Fine Art, Foxy Production, and at Chapter, New York.
For more information about Gordon Hall and The Center for Experimental Lectures visit:
gordonhall.net
experimentallectures.org
Janice Lancaster Larsen and Adam Larsen will perform Caryatid and present on their collaborative work Tuesday, April 14th. Adam Larsen will discuss the creative, technical, and practical challenges involved in designing video projections for live performance. In collaboration they will present Caryatid, a short dance performance in which simple mapping techniques on 12 PVC columns creates a forest and its psyche. Janice Lancaster Larsen is a freelance dance artist who tours with Shen Wei Dance Arts. Adam Larsen is a freelance projection designer and filmmaker. His documentary about autism entitled "Neurotypical" aired on the PBS series P.O.V. last year. Sometimes their projects align and they make immersive performance environments and dance films. Their performed collaborations have been presented by the Bessie Schönberg Choreographic Residency (Chilmark, MA), Black Mountain College Museum + Art Center (Asheville, NC), and VIA Dance Collaborative (New York, NY). Their films have been presented by Dance Space's TV Dinners Festival (London), Galapagos Art Space's Frameworks Film Series (NYC), The Flea Theater (NYC), Performática (Cholula, Mexico), and The Casa Hoffman (Curitiba, Brazil). They have worked together on productions with the San Francisco Symphony (CA), Bard Music Festival (Hudson, NY), The Honolulu Theatre for Youth (HI), and Fulton Opera House (Lancaster, PA).
For more about Adam Larsen and Janice Lancaster Larsen visit:
Saya Woolfalk (Japan, 1979) is a New York based artist who uses science fiction and fantasy to re-imagine the world in multiple dimensions. Woolfalk will be presenting an artist talk Wednesday, April 29th. She has exhibited at PS1/MoMA; Deitch Projects; Contemporary Art Museum, Houston; Contemporary Arts Center, Cincinnati; the Brooklyn Museum; Asian Art Museum, CA, Museum of Contemporary Art, Chicago; the Studio Museum in Harlem; the Frist Center for the Visual Arts; The Yerba Buena Center; The Newark Museum; Third Streaming; MCA San Diego; MoCA Taipei; and Performa 09; and has been written about in the New Yorker, Sculpture Magazine, Artforum, Artforum.com, ARTNews, The New York Times, Huffington Post and on Art21's blog.  Her first solo museum show The Empathics was on view at the Montclair Art Museum in the Fall of 2012.  Her second solo museum exhibition ChimaTEK Life Products is now on view at the Chrysler Museum of Art (fall 2014).  She is currently working on a new commission for the Seattle Art Museum (Summer 2015), a solo show for Leslie Tonkonow Gallery (Spring 2015), and is a 2014 recipient of a NYFA grant in Digital/Electronic Arts.
For more about Saya Woolfalk visit:
http://www.sayawoolfalk.com/
The Masters of Fine Arts in Intermedia at the University of Maine provides substantial advanced study for individuals interested in interdisciplinary study in the arts. The program emphasizes intensive development of students' creative and innovative abilities through a diverse engagement with multiple research processes, critical thinking skills and creative production tools and technologies. The visiting artist series supports and reflects the wide variety of disciplines represented by the program including but not limited to: Art, New Media, Theater, Dance, Philosophy, Art History, Engineering, Communications, Media Studies, Music, Psychology, Natural Sciences, and others.
The Guest Lecture Series is made possible by support from the Intermedia MFA Program, the Skowhegan School of Painting and Sculpture, the Department of New Media, The University of Maine Cultural Affairs/Distinguished Lecture Series, and the Alston D. and Ada Lee Correll New Media Fund.