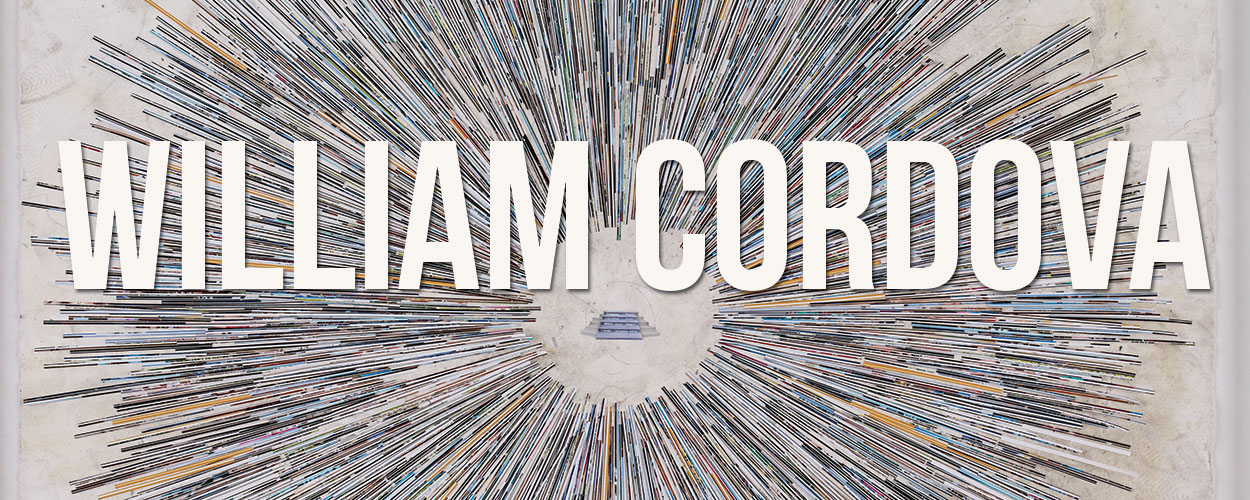 Visiting Artist William Cordova
The University of Maine's Intermedia MFA program is pleased to welcome William Cordova as our next visiting artist in the fall Guest Lecture Series. Cordova will be presenting on his practice and recent projects Tuesday, December 2nd  at 7:00 PM in the APPE Space of the IMRC, Stewart Commons.
William Cordova is an interdisciplinary artist living in Miami/New York City. Cordova's work addresses the metaphysics of space and time and how objects change and perception changes when we move around in space. Cordova received a BFA from The School of the Art Institute of Chicago,1996 and an MFA from Yale University, 2004. He has been in residence at The Studio Museum in Harlem, The Museum of Fine Arts Houston, Headlands Art Center, Artpace and Skowhegan School of Painting and Sculpture, among others. He has exhibited in the US, Latin America, Europe and Asia. His work is in the public collection at the Whitney Museum of American Art, Guggenheim Museum, New York, NY, Harvard University, Cambridge, MA, the Yale Art Gallery, New Haven, CT, Museo de Arte de Lima, Lima, Peru, Ellipse Foundation, Cascais, Portugal, Museum of Contemporary Art, Miami, FL, La Casa de las Americas, Havana, Cuba among others. Cordova was represented in the Museum of Modern Art/PS1 Greater New York exhibition, an overview presentation of contemporary artists whose contributions to the arts have had a significant influence in society. In 2011 Cordova was invited for his first one person museum exhibition in Europe, yawar mallku: royalty, abductions y exiles at La Conservera, Murcia, Spain and also awarded the Joan Mitchell Foundation Grant. In 2013 he was nominated and participated in the prestigious American Academy in Berlin Fellowship. Cordova will be working on a fellowship at Stanford University and participating in Prospect III New Orleans Biennial (Fall 2014). This presentation is sponsored in partnership with the Skowhegan School of Painting and Sculpture.
For more on William Cordova please visit sikkemajenkinsco.com/index.php?v=artist&artist=4eecdb96e9420
For questions regarding this event and the fall visiting artists, please send messages to sarah.hollows@maine.edu

The Masters of Fine Arts in Intermedia at the University of Maine provides substantial advanced study for individuals interested in interdisciplinary study in the arts. The program emphasizes intensive development of students' creative and innovative abilities through a diverse engagement with multiple research processes, critical thinking skills and creative production tools and technologies. The visiting artist series supports and reflects the wide variety of disciplines represented by the program including but not limited to: Art, New Media, Theater, Dance, Philosophy, Art History, Engineering, Communications, Media Studies, Music, Psychology, Natural Sciences, and others.

The Guest Lecture Series is made possible by support from the Intermedia MFA Program, the Skowhegan School of Painting and Sculpture, the Department of New Media, The University of Maine Cultural Affairs/Distinguished Lecture Series, and the Alston D. and Ada Lee Correll New Media Fund.