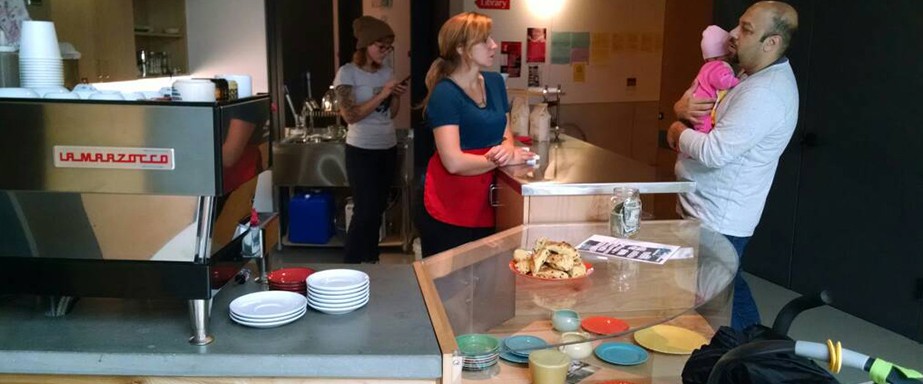 Hide and Seek Coffee Shop Opens
Both new and frequent visitors to the IMRC will soon discover a refreshing surprise in the building's lobby, a new coffee shop. Created and developed by three Intermedia MFA students, the new shop, Hide and Seek Coffee, will serve coffee, teas, and an assortment of baked goods. Rachel Nelson, Sarah Hollows, and Kris Mason are the three graduate students behind the project, and they've worked tirelessly to bring Hide and Seek from concept to reality.
The idea for the shop came about during a discussion in one of Rachel's first semester courses: "She and her classmates were imagining possibilities for how to draw people in from the community…. A coffee shop was what the people wanted." Over the following months, Rachel continued to pursue the idea and determine its feasibility. Sarah and Kris soon joined her, and the program, a short time later. The entrepreneurial trio now work together "not only as artistic collaborators but also coffee slinging, pastry baking, creative community space making, grown up kids."These multi-talented "grown up kids" are also infusing Hide and Seek with a smart and responsible business model. Their aim is to "source as many local, organic, sustainable and otherwise fairly traded ingredients . . . while also surviving as a business." This community driven and environmentally friendly practice has resulted in different connections with local businesses, including "coffee and espresso beans from Tandem, flour and oats from Maine Grains, dairy and eggs from Siberia Farms, and Swan's Honey." The shop will also be offering a "variety of teas from EcoPrima, in house and from scratch baked goods by Rachel and Sarah, and a handful of other snacks and treats for all your late night procrastination/study hard needs."
Fortunately, visitors won't have to wait long to get their hands on Hide and Seek's responsibly sourced coffee and treats. The shop's soft opening is tomorrow, Tuesday, October 14th, from 10:00am to 2:00pm.
To learn more about Hide and Seek, including a listing of the shop's hours, please visit their website at the following address:  www.HideAndSeekCoffee.com