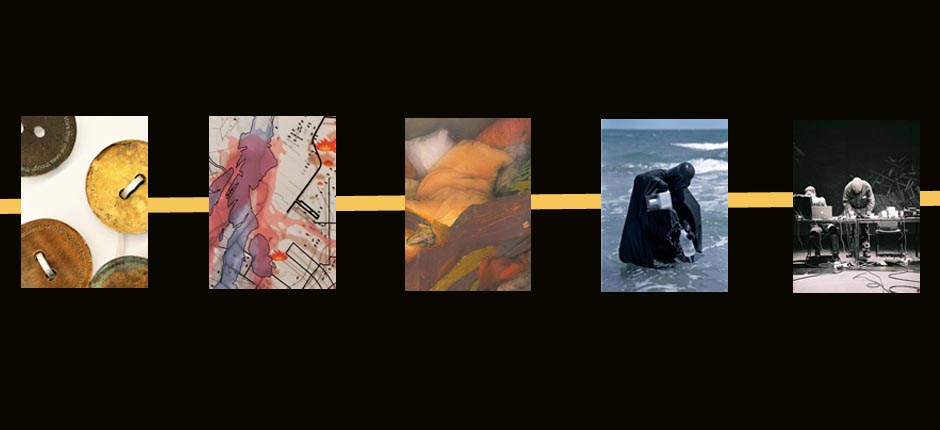 Spring 2014 Visiting Artist Lecture Series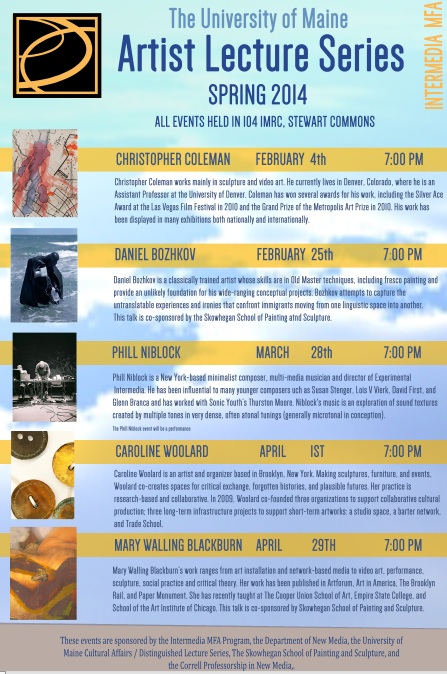 UMaine Intermedia MFA Program Announces Spring 2014 Visiting Artist Series
The University of Maine Intermedia MFA program is pleased to announce the artists for the Spring 2014 Visiting Artist Series. Presenting this spring are Christopher Coleman, Daniel Bozhkov, Phill Niblock, Caroline Woolard and Mary Walling Blackburn. Each artist will present a public lecture in 104 IMRC, Stewart Commons at the University of Maine campus in Orono, Maine.
The six artists for the Spring 2014 Visiting Artist Series will present on their diverse research and art practices that range from, but are not limited to, experimental music, performance, social activism, computer coding, installation and film.
Christopher Coleman (February 4th) works mainly in sculpture and video art. He currently lives in Denver, Colorado, where he is an Assistant Professor at the University of Denver. Coleman has won several awards for his work, including the Silver Ace Award at the Las Vegas Film Festival in 2010 and the Grand Prize of the Metropolis Art Prize in 2010. His work has been displayed in many exhibitions both nationally and internationally.
Daniel Bozhkov (February 25th) is a classically trained artist whose skills are in Old Master techniques, including fresco painting and provide an unlikely foundation for his wide-ranging conceptual projects. Bozhkov attempts to capture the untranslatable experiences and ironies that confront immigrants moving from one linguistic space into another. This talk is co-sponsored by the Skowhegan School of Painting and Sculpture.
Phill Niblock (March 28th) is a New York-based minimalist composer, multi-media musician and director of Experimental Intermedia. He has been influential to many younger composers such as Susan Stenger, Lois V Vierk, David First, and Glenn Branca and has worked with Sonic Youth's Thurston Moore and Lee Renaldo on "Guitar two, for four". Niblock's music is an exploration of sound textures created by multiple tones in very dense, often atonal tunings (generally microtonal in conception).
Caroline Woolard (April 1st) is an artist and organizer based in Brooklyn, New York. Making sculptures, furniture, and events, Woolard co-creates spaces for critical exchange, forgotten histories, and plausible futures. Her practice is research-based and collaborative. In 2009, Woolard co-founded three organizations to support collaborative cultural production; three long-term infrastructure projects to support short-term artworks: a studio space, a barter network, and Trade School.
Mary Walling Blackburn's (April 29th) work ranges from art installation and network-based media to video art, performance, sculpture, social practice and critical theory. Her work has been published in Artforum, Art in America, The Brooklyn Rail, and Paper Monument. She has recently taught at The Cooper Union School of Art, Empire State College, and School of the Art Institute of Chicago. This talk is co-sponsored by Skowhegan School of Painting and Sculpture.
The University of Maine Intermedia department is excited to host this diverse group of artists, as they will undoubtedly appeal to a wide collection of interests of students, faculty and the local community. The public is invited to participate in this lecture series to gain exposure to distinguished and contemporary artists, educationally beneficial engagement opportunities, and interaction with professionals from a variety of cultural and critical backgrounds. All events are free and open to the public.
Individual press releases will follow announcing time and location.
These events are sponsored by the Intermedia MFA Program, the Department of New Media, the University of Maine Cultural Affairs / Distinguished Lecture Series, Skowhegan School of Painting and Sculpture and the Correll Professorship in New Media.
For more information contact Bethany Engstrom at bethany.engstrom@maine.edu.