See, Touch, Hear at Asymmetrick Arts in Rockland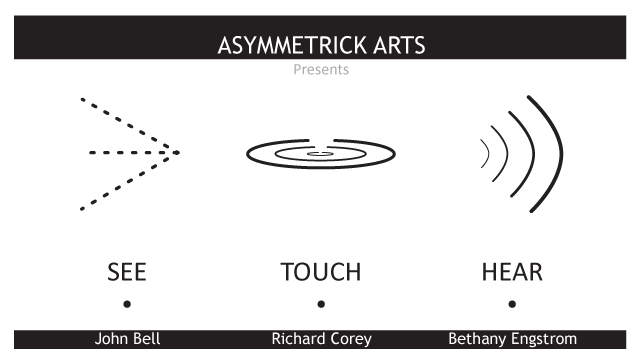 See, Touch, Hear at Asymmetrick Arts Opens September 21
Rockland, Maine: Asymmetrick Arts will feature the exhibition See, Touch, Hear, work by John Bell, Richard Corey and Bethany Engstrom opening September 21. The public is invited to an opening reception on Friday, September 28, from 5:30 to 8 p.m. The exhibit runs through October 19, with an artists' talk on Friday, October 5 at 3 p.m.
Utilizing the visual and looking beyond it, See, Hear, Touch explores the possibilities of engaging the senses in art today. Featuring work by John Bell, Richard Corey and Bethany Engstrom, this exhibition will present new and existing projects that engage the viewer in new ways of participating and interacting with work through the use of visuals, audio and tactile experiences. Keeping the focus on these particular senses, John's work looks to the visual and includes the graphic work Art for Sale and new media piece Emote8. Rick will explore ideas of touch with his installation Spitting Into the Wind configured to the gallery space and Bethany will include an audio object Untitled (Marriage) and a new sound installation Into the Woods / The bodies brush together…  
John Bell, Rick Corey and Bethany Engstrom all hold an MFA in Intermedia from the University of Maine and are currently Interdisciplinary PhD candidates working collaboratively at UMaine.
Asymmetrick Arts is located at 405 Main Street in Rockland. For more information, call 594-2020, or email asym.arts@gmail.com.