Guest Lectures, Visiting Artists, Presentations and Workshops
The Intermedia MFA Tuesdays at the IMRC Lecture Series continues to provide the UMaine, Orono and Bangor community with a diverse schedule of compelling speakers, and performances by contemporary and interdisciplinary artists and performers from around the country and world.
The Intermedia Program has a very active schedule of visiting artists, workshops and presentations. We bring in 12-18 visiting artists and guest lecturers every year. Recent visiting artists have included: Heather Dewey-Hagborg, Will Rogan, Katarina Burin, Hope Ginsburg, Paul Pfeiffer, Miwa Matreyek, Skawennati, Cullen Washington Jr., Sable Elyse, Vic Rawlings, Shaun Leonardo, Luciano Chessa, Sam Van Aken, Becka Albee, Jane Prophet, Gedi Sibony, Sondra Perry, Patrick Killoran, Sheila Pepe, Mary Mattingly, Jaap Blonk, William Cordova, Dawn Stoppiello, Gordon Hall, Janice Lancaster Larsen and Adam Larsen, Saya Woolfalk, BridA, Daniel Bozhkov, Phill Niblock, Mary Walling Blackburn, Miguel Gutierrez, Alix Perlstein,  Erin Manning, Hasan Elahi, Miranda Clark, Iain Kerr, Sina Najafi, Jae Rhim Lee, Ali Momeni, Jonna Malinowska and many others.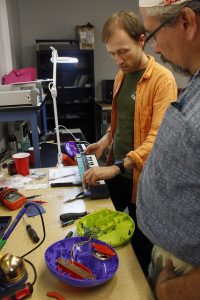 In addition to the lectures our visiting artists' program arranges for students to have studio visits of at least 4 to 5 per year. In conjunction with the IMRC Center we also host numerous workshops per year and they are always free and open to the Students in the Intermedia Program. Workshop topics have included: mold making, intro to Audio Editing, Digital Embroidery, Book Binding for Artists, Screen Printing, 3D Printing, Video and Image Mapping, Immersive Sound, Wood Fabrication Techniques, Biodigester Design and Production, Vacuumforming, CNC Techniques, Experimental Composition, Photo Books and more.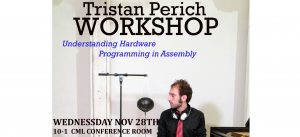 All events are free, open to the public and will take place at the Innovative Media Research Commercialization Center, located in Stewart Commons at the University of Maine at 7:00p.m.