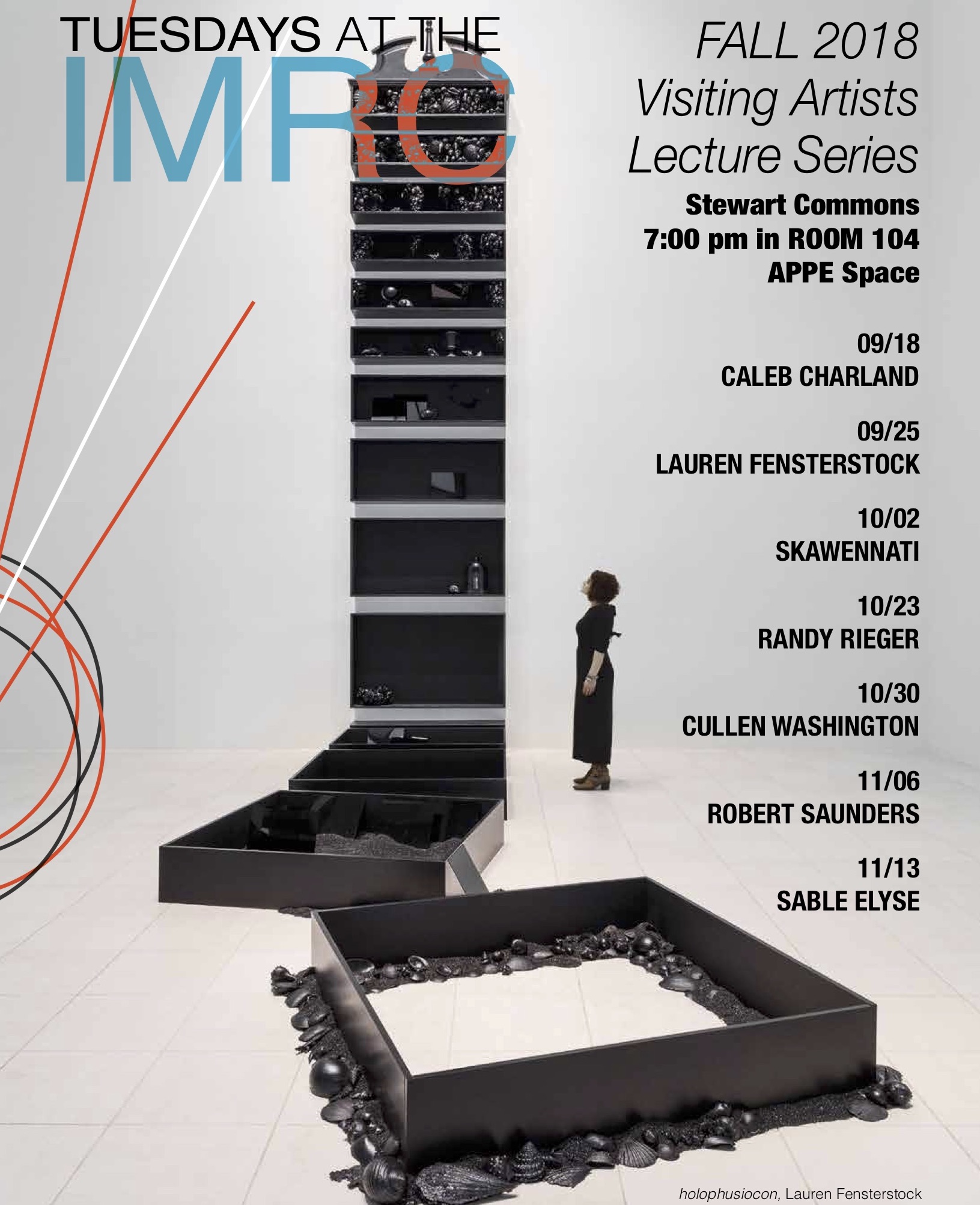 Fall 2018
The Intermedia MFA Tuesdays at the IMRC Lecture Series continues to provide the UMaine, Orono and Bangor community with a diverse schedule of compelling speakers, and performances by contemporary and interdisciplinary artists and performers from around the country and world.
All events are free, open to the public and will take place at the Innovative Media Research Commercialization Center, located in Stewart Commons at the University of Maine at 7:00p.m.
---
Caleb Charlene • Visiting Artist
September 18
"For me, wonder is a state of mind somewhere between knowledge and uncertainty. It is the basis of my practice and results in images that are simultaneously familiar yet strange. Each piece begins as a question of visual possibilities and develops in tandem with the natural laws of the world. Serendipitously, this process often yields unexpected results measurable only through photographic processes. The human presence and artifacts of the process provide a clue to the creation of the photograph while adding to the mysterious nature of the image. My hope is that this work affirms that even within the well tested laws of science there are, and must always be, pathways to reinterpretation and discovery."
More Info: Caleb Charland's Website
---
Lauren Fensterstock • Visiting Artist

September 25
Lauren Fensterstock creates elaborate sculptures and installations that explore the evolving history of our relationship to nature. By merging contradictory historic perspectives—spanning the Baroque, the Picturesque and Minimalism—she reveals the cultural roots of our concept of nature. These intricate artworks are constructed in the material of ladies' accomplishments, such as quilled paper and shell work, emphasizing the capacity of traditional female crafts to reflect on the complexities of the world beyond the domestic sphere.
More Info: Lauren Fensterstock's Website
---
Skawennati • Visiting Artist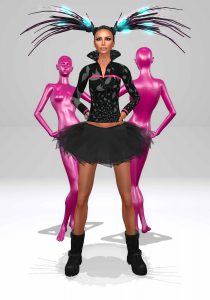 October 2

Skawennati makes art that addresses history, the future, and change.  Her new media projects are included in both public and private collections and have been presented in major exhibitions such as "On Desire"at the B3 Biennale of the Moving Image in Frankfurt, Germany;Now? NOW!at Denver's Biennial of the Americas; and Looking Forward (L'Avenir)at the Montreal Biennale.
Born in Kahnawà:keMohawk Territory, Skawennati holds a BFA from Concordia University in Montreal, where she resides. She is Co-Director of Aboriginal Territories in Cyberspace(AbTeC), a research network of artists and academics who investigate and create Indigenous virtual environments. Their Skins workshops in Aboriginal Storytelling and Experimental Digital Media aim to empower youth. In 2015 AbTeC launched IIF, the Initiative for Indigenous Futures
More Info: Skawennati's Website
---
Cullen Washington Jr. • Visiting Artist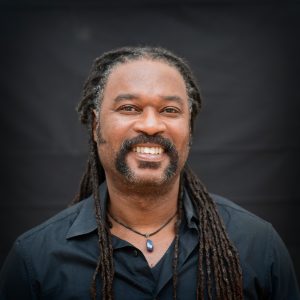 October 30
Cullen Washington utilizes the grid to communicate humanity and inter-connectedness. He describes his collage abstract paintings as non-representational fields of activity. Washington has shown nationally and internationally including The Queens Museum, The Contemporary Arts Museum Houston, Saatchi Gallery London and The Studio Museum in Harlem. He will be a resident at The Joan Mitchell Foundation New Orleans and has been a resident at The Studio Museum in Harlem and the Skowhegan School of Painting and Sculpture. He is the recipient of a Joan Mitchell Foundation Award and in the collections of the Metropolitan Museum of Art, Studio Museum in Harlem,  Charles Saatchi Gallery, and the Alexandria Museum of Art, Louisiana.
More Info: Cullen Washington Jr.'s Website
---
Sable Elyse • Visiting Artist
November 13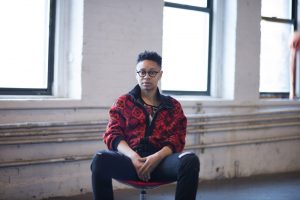 Sable Elyse Smith is an interdisciplinary artist and writer based in New York. Her practice considers memory and trauma while enacting an undoing of language. She works from the archive of her own body creating new syntax for knowing and not knowing, thereby marking the difference between witnessing and watching. To see is unbearable. She has performed at the Museum of Modern Art, the New Museum, Eyebeam, and Yerba Buena Center for the Arts, San Francisco, CA. Her work has also been screened at Birkbeck Cinema in collaboration with the Serpentine Galleries, London, Artist Television Access, San Francisco, and MoMA Ps1, New York. Her writing has been published in Radical Teacher, Selfish, Studio Magazine and with Recess Art's Critical Writing Fellowship. She is currently working on her first book.
More Info: Sable Elyse Smith's Website
---