Spring 2018
The Intermedia MFA Tuesdays at the IMRC Lecture Series continues to provide the UMaine, Orono and Bangor community with a diverse schedule of compelling speakers, and performances by contemporary and interdisciplinary artists and performers from around the country and world.
All events are free, open to the public and will take place at the Innovative Media Research Commercialization Center, located in Stewart Commons at the University of Maine at 7:00p.m.
SOFIAN AUDRY • Faculty Lecture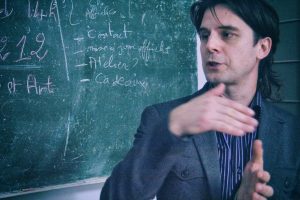 January 30
Sofian Audry creates computational artistic works through different forms such as robotics, electronics intervention, interactive installations and net art. He holds a bachelor's degree in Computer Sciences and Mathematics (2001), a M. Sc. in Computer Science from the University of Montreal (machine learning and language modeling, 2003), an M.A. in Communications from UQAM (interactive media, 2010), and a Ph. D. in Humanities from Concordia University (2016). Sofian is Assistant Professor of New Media in the School of Computing and Information Science at University of Maine. Before he was a Postdoctoral Fellow at the Massachusetts Institute of Technology. He is actively involved in his community as part of artist-run center Perte de Signal which he led as president of the board in 2009-2017, and as lead developer of open source video mapping software MapMap. His work has been presented in Canada, Europe, Asia and Africa in many festivals and exhibitions.
More Info: http://sofianaudry.com/
---
HOPE GINSBURG • Visiting Artist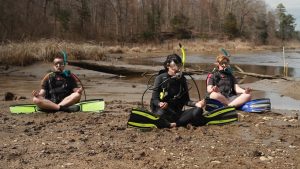 February 6
Hope Ginsburg has exhibited nationally and internationally at venues such as MoMA PS1, MASS MoCA, Wexner Center for the Arts, Kunst-Werke Berlin, Contemporary Art Center Vilnius, Baltimore Museum of Art and SculptureCenter. Ginsburg's pedagogical project Sponge (2006–2016) was the focus of solo exhibitions at Solvent Space in Richmond, VA (2008) and CUE Art Foundation (2011), which was accompanied by a catalog. In 2010, her Sponge HQ opened at the Anderson Gallery at Virginia Commonwealth University, where it was sited for six years. A 2011 Art Matters Grant enabled her to learn to scuba dive so that she could see the sponges in their reef habitats. Ginsburg's 2013 project for the 9th Mercosul Biennial in Porto Alegre, Brazil took inspiration from that investigation.
More Info: http://www.hopeginsburg.com
---
AUDREY CHEN & PHIL MINTON • Performance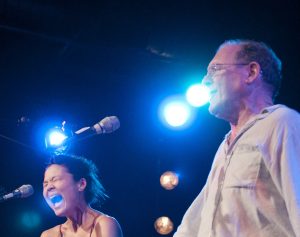 February 13
With primary focus on the interplay between the uttered sounds of the mouth and vocal chords, Minton and Chen plumb the depths of their most inherent and bodily instruments. Their improvisations are fearless, fragile, hungry, passionate, riotous, ululating and animalistic, yet are also in all respects, human. They express, pronounce and intensely articulate (in their fashion) the many nuanced shades of their individual and collaborative conditions. "…….For those two voices interpenetrate to produce a more complex song. It's a single voice branching out. Here, what the voice produces is actually what singing has not explored, what has been left behind as something impure or non-complying. Something similar can be brightly heard in Scelsi's vocal pieces. There is also a similarity with the complex vocal works (the logatomes) Léo Kupper extensively produced in the mid-'60s. At times, the music seems to lead us to a meaning that is deeper than the textual level. Or is it the depth of another possible song? That's when the music takes us to areas that seem closer to the sacred, left untouched by mediation, even slightly incomprehensible, though mostly ambivalent and reality-piercing.
More Info: http://www.audreychen.com & https://www.philminton.co.uk
---
ANDY MAUERY • Faculty Lecture

February 27
Andy Mauery is an artist and educator currently living in Veazie, Maine. A sculptor who works with a variety of methods and materials, Mauery creates objects/sketches and large-scale installations as well as designing collaborative workshops. She earned her MFA in Sculpture from West Virginia University, and is an Associate Professor of Art and the Foundations Coordinator at The University of Maine, where she has been teaching since 2000. Her courses include 2D Design, 3D Design, Sculpture, and Studio topics courses such as Sustainable Sculpture and Sculptural Fibers. Her creative work centers on questioning and placement, and the human desire to make plain the complexities of life. She has exhibited in the US, Denmark, Peru, and the UK; and has been awarded several research grants, most recently an Artist Resource Trust (A.R.T.) Individual artist grant from the Berkshire Taconic Community Foundation.
More Info: www.andymauery.com
---
PAUL PFEIFFER • Visiting Artist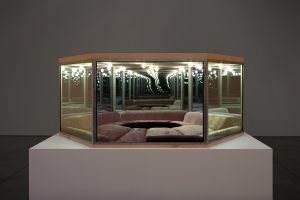 March 27
Paul Pfeiffer was born in Honolulu, Hawaii, in 1966 but spent most of his childhood in the Philippines. Pfeiffer relocated to New York in 1990, where he attended Hunter College and the Whitney Independent Study Program. Pfeiffer's groundbreaking work in video, sculpture, and photography uses recent computer technologies to dissect the role that mass media plays in shaping consciousness.
More Info: https://www.thomasdanegallery.com/artists/47-paul-pfeiffer/works/
---
MIWA MATREYEK • Visiting Artist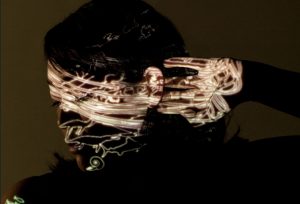 April 3
Coming from a background in animation by way of collage, Miwa Matreyek creates live, staged performances where she interacts with her animations as a shadow silhouette, at the cross section of cinematic and theatrical, fantastical and tangible, illusionistic and physical. Her work exists in a dreamlike visual space that makes invisible worlds visible, often weaving surreal and poetic narratives of conflict between man and nature. Her work exists both at the realm of the hand-made and tech. She travel as a one woman show, often incorporating artist talks and workshops.
More Info: http://www.semihemisphere.com/
---
ADRIANE HERMAN • Visiting Artist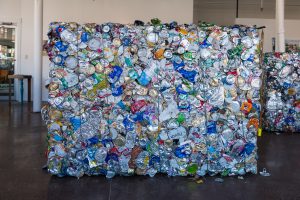 April 24
Adriane Herman studies accumulation and release in our physical and emotional landscapes. She has had solo exhibitions at Adam Baumgold Gallery (NY); Western Exhibitions (Chicago), Kansas City Jewish Museum of Contemporary Art; Center for Maine Contemporary Art; Interlochen Center for the Arts; Kiosk Gallery in Kansas City; Rose Contemporary in Portland and Ocean House Gallery in Cape Elizabeth. Group exhibition venues include The Dalarnas Museum (Falun, Sweden); Portland Museum of Art; The Brooklyn Museum; Chapel Street Gallery at Yale University; The Ulrich Museum (Wichita), The H&R Block Artspace at Kansas City Art Institute and Paragraph Gallery (both Kansas City), Mount Airy Contemporary (Philadelphia), and the International Print Center New York
More Info: http://www.adrianeherman.com
---