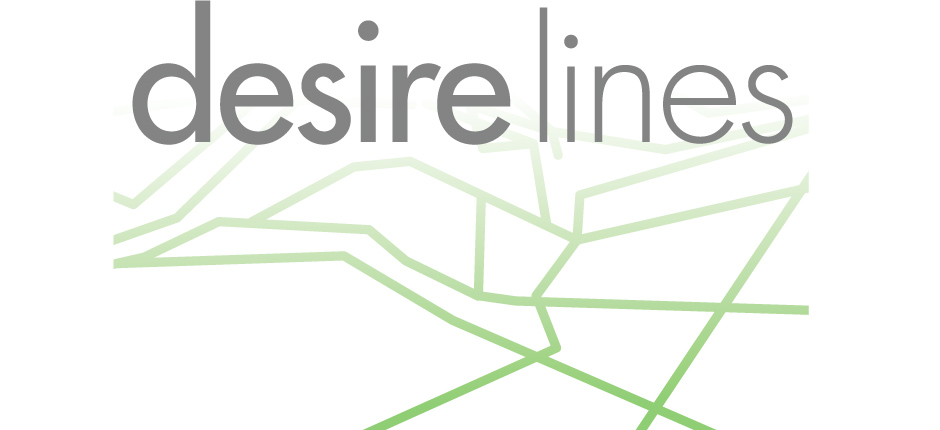 MFA Thesis Exhibition: DESIRE LINES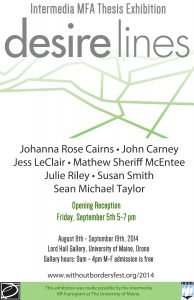 Intermedia MFA Thesis Exhibition: Desire Lines
The University of Maine Intermedia MFA program is proud to present Without Borders XI: Desire Lines, a presentation of thesis works by the class of 2014. The show will take place in Lord Gallery on the University of Maine Campus in Orono from August 8th until September 19th. We hope you will join us for the opening reception on Friday September 5th from 5-7pm. This event is free and open to the public.
A "desire line" is a path formed by repeated foot traffic along a given route that is not the officially sanctioned trail. It is the place where people have chosen to go off the map. Part of what defines us as intermedia artists is that we have all chosen to stray from the path set for us by traditional art and academic disciplines. The definition of art that we embrace is purposefully broad and inclusive. The work that we present here draws from a wide variety of themes, disciplines and materials. But what unites us is our desire to push past the lines that have been drawn for us.
For details about the artists and their work please visit: www.withoutbordersfest.org/2014
The Masters of Fine Arts in Intermedia at the University of Maine provides substantial advanced study for individuals interested in interdisciplinary study in the arts. The program emphasizes intensive development of students' creative and innovative abilities through a diverse engagement with multiple research processes, critical thinking skills and creative production tools and technologies. The visiting artist series supports and reflects the wide variety of disciplines represented by the program including but not limited to, Art, New Media, Theater, Dance, Philosophy, Art History, Engineering, Communications, Media Studies, Music, Psychology, Natural Sciences, and others.
For more information about the Intermedia MFA: www.intermediamfa.org