Artist Lecture: Mary Walling Blackburn April 29th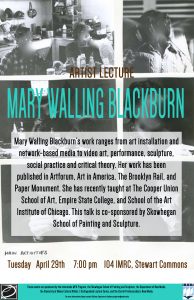 The University of Maine Intermedia MFA program is pleased to announce the 6th presenter, Mary Walling Blackburn, for their Spring 2014 Visiting Artist Series co-sponsored by the Skowhegan School of Painting and Sculpture. The artist will present a public lecture on Tuesday, April 29th at 7pm in 104 IMRC Center, Stewart Commons on the University of Maine campus in Orono. This event is free and open to the public.
Mary Walling Blackburn's work ranges from art installation and network-based media to video art, performance, sculpture, social practice and critical theory. She has exhibited at the Whitney Museum, Bard College, LAX Art and Art Dubai and participated in group shows from Brooklyn to Hong Kong to Melbourne. She has taught at The Cooper Union School and the School of the Art Institute of Chicago and published in highly acclaimed journals such as Cabinet, Afterall, Art Forum and others. She was also recently included in Draw It With Your Eyes Closed: The Art of the Art Assignment (2012), published by Paper Monument and praised in The New York Times as a "mischievous and nourishing new book."
Blackburn received a national ArtMatters grant in 2011, which is given by invitation only to artists who display a decisive engagement with social justice. Her current project involves research in Turkey and at the Syrian border. A specific aspect of her art practice involves an experimental educational project, The Anhoek School, a graduate program in which student-teacher monetary exchange is replaced with a barter system – students work for the school in exchange for classes (http://www.anhoekschool.org). The nomadic school has been invited to stage classes in Aarhus, Denmark; at the Blanton Museum of Art in Austin; at Southern Exposure in San Francisco; and through The Laboratory at Harvard University.Blackburn earned a B.A. in history from the University of New Hampshire and an M.F.A. in interactive telecommunications from NYU's Tisch School of the Arts, and served a residency at the Skowhegan School of Painting and Sculpture in 2011.
For more information about the artist please visit  www.welcomedoubleagent.com
The Masters of Fine Arts in Intermedia at the University of Maine provides substantial advanced study for individuals interested in interdisciplinary study in the arts. The program emphasizes intensive development of students' creative and innovative abilities through a diverse engagement with multiple research processes, critical thinking skills and creative production tools and technologies. The visiting artist series supports and reflects the wide variety of disciplines represented by the program including but not limited to, Art, New Media, Theater, Dance, Philosophy, Art History, Engineering, Communications, Media Studies, Music, Psychology, Natural Sciences, and others.
For more information about the Intermedia MFA program please visit: http://intermediamfa.org.
These events are sponsored by the Intermedia MFA Program, the Department of New Media, The Skowhegan School of Painting and Sculpture, the University of Maine Cultural Affairs / Distinguished Lecture Series and the Correll Professorship in New Media.
For more information contact Bethany Engstrom at bethany.engstrom@umit.maine.edu