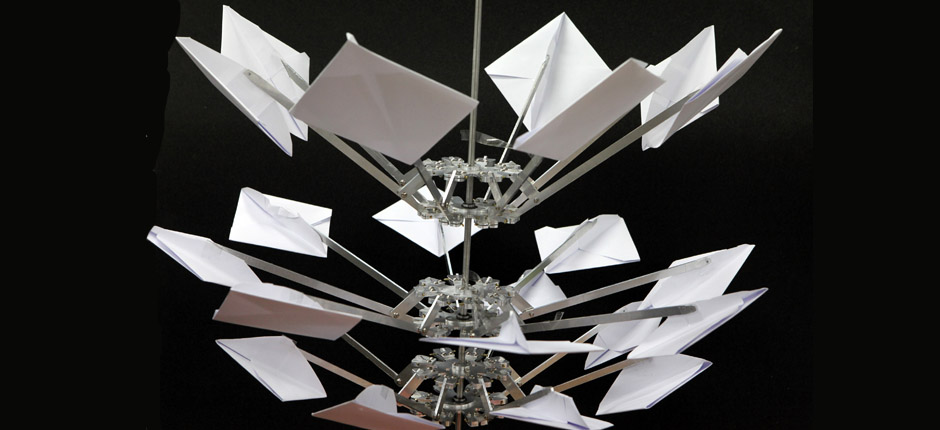 Artist Lecture Dan Mikesell April 14th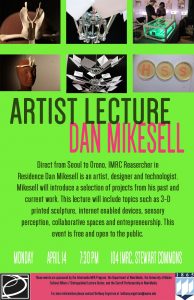 Press Release
4/8/14
The University of Maine Intermedia MFA program is pleased to announce the fifth presenter, New York based artist Dan Mikesell for their Spring 2014 Visiting Artist series. Dan Mikesell is currently the IMRC Center Researcher in Residence through May, 2014. Mikesell will present a public lecture on Monday, April 14th at 7:30 pm in 104 IMRC, Stewart Commons on the University of Maine campus in Orono. This event is free and open to the public.
Dan Mikesell is a media artist and technologist returning to the United States after spending the last four years as a WCU (World Class University Grant) Professor at Hongik University in Seoul, South Korea. While teaching in Seoul, Mikesell founded HackerSpace Seoul, a creative incubator which has earned grants from the Korean Foundation for Science and Creativity in 2011 and 2012 for their work on biological and bio-mimetic installation. His work "Project : Prey"  and "HODU" won the Research Challenge competition at SIGGRAPH two years in a row. Dan has also developed a mobile network device, which helps doctors treat stroke victims and chronic pain patients. He currently holds one U.S. patent and three Korean patents based on this technology.
More information on Dan Mikesell's work can be found at: http://www.meatbot.com.
The Masters of Fine Arts in Intermedia at the University of Maine provides substantial advanced study for individuals interested in interdisciplinary study in the arts. The program emphasizes intensive development of students' creative and innovative abilities through a diverse engagement with multiple research processes, critical thinking skills and creative production tools and technologies. The visiting artist series supports and reflects the wide variety of disciplines represented by the program including but not limited to, Art, New Media, Theater, Dance, Philosophy, Art History, Engineering, Communications, Media Studies, Music, Psychology, Natural Sciences, and others.
These events are sponsored by the Intermedia MFA Program, the Department of New Media, The University of Maine Cultural Affairs / Distinguished Lecture Series and the Correll Professorship in New Media. 
For more information contact Bethany Engstrom at bethany.engstrom@umit.maine.edu