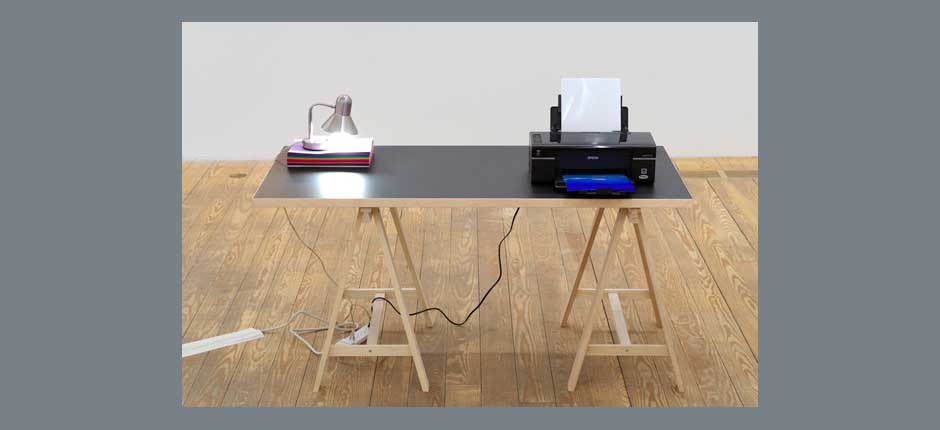 Visiting Artist Joe Winter: Lecture December 4th
The University of Maine Intermedia MFA program is pleased to announce the sixth presenter, Joe Winter, for their Fall 2013 Visiting Artist series. The artist will present a public lecture on December 5th at 7pm in 104 IMRC, Stewart Hall on the University of Maine campus in Orono.
Joe Winter creates sculptures that re-purpose familiar technological systems and undermine their functional "sense." Past works have targeted sound-related technologies and objects, and have included: a cassette tape that draws three-dimensional moving images; pianos driving in endless circles; and telephones that talk only to each other. Recent work revolves around contemporary technologies of image production.
Joe Winter's work has been exhibited internationally and has been supported by several major artist residency programs, including Skowhegan, the MacDowell Colony, Eyebeam Art and Technology Center, Sculpture Space, and the Lower Manhattan Cultural Council. He has been in group exhibitions at Foxy Production (NY), Gasser & Grunert (NY), and Edith Russ Haus (Oldenburg, Germany), the Museum of Contemporary Art, San Diego, and the Queens Museum of Art, among others. He has presented solo exhibitions at the Kitchen in New York and the National Glass Center in Sunderland (UK). Winter's work has been reviewed and discussed in ArtForum, Art in America, Art Review, The New Yorker, and on Rhizome.org. Winter received a B.A. from Brown University and an M.F.A. from the University of California, San Diego. He has taught at Sarah Lawrence College and the Tyler School of Art and currently teaches at both City College (CUNY) and the School of Visual Arts in New York.
The Masters of Fine Arts in Intermedia at the University of Maine provides substantial advanced study for individuals interested in interdisciplinary study in the arts. The program emphasizes intensive development of students' creative and innovative abilities through a diverse engagement with multiple research processes, critical thinking skills and creative production tools and technologies. The visiting artist series supports and reflects the wide variety of disciplines represented by the program including but not limited to, Art, New Media, Theater, Dance, Philosophy, Art History, Engineering, Communications, Media Studies, Music, Psychology, Natural Sciences, and others.
For more about the artist please visit: www.severalprojects.com
These events are sponsored by the Intermedia MFA Program, the Department of New Media, the University of Maine Cultural Affairs / Distinguished Lecture Series, Skowhegan School of Painting and Sculpture and the Correll Professorship in New Media.
For more information contact Bethany Engstrom at Bethany.engstrom@umit.maine.edu