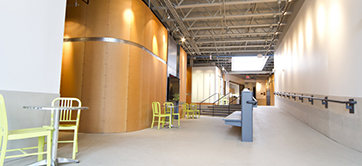 IMRC Announces Open Call for Spring 2014 Researcher in Residence
The University of Maine Intermedia MFA program, New Media Department and the Innovative Media Research and Commercialization Center (IMRC) are pleased to announce the inauguration of its Researcher in Residence program. The newly opened IMRC will offer two residencies every academic year, inviting creative researchers to work in the center, to foster and support innovative research in Intermedia and New Media at the University of Maine; to build on the University of Maine's reputation as a center of excellence; and to bring together students and faculty working at the IMRC Center with expert external participants to promote a collaborative and innovative creative research environment.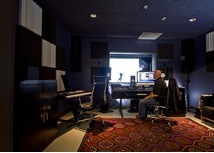 IMRC residencies support the creative research, production and presentation of initiatives in New Media, Intermedia, and other technology areas, and their social and cultural application. The residency supports a period of concentration and immersion in creative investigation, cutting-edge research or production of visionary, experimental applications and projects. Potential initiatives might range from live Intermedia productions, sound and physical computing works to technical prototypes, installations and tactical media events. The resident is committed to supporting a diverse and broad ranging creative environment. We consequently encourage applications from the broadest possible range of individuals and creative technologists to this program.
There are two yearly awardees, one in the spring and one in the fall for eight to twelve weeks. Residents will be selected from an open call based on the quality of the work or research being proposed, the availability of the necessary tools and skills to support the work, and the relation of the proposed statement of interest to the mission and activities of the IMRC, the Foster Student Innovation Center and/or the University of Maine. The deadline for spring term is December 15 and June 25 for fall. Applicants will be notified a month after the submission deadline and will begin in February or March for Spring 2014. Residents are granted a stipend of $5,000, studio space, 24/7 access to the IMRC Center's state of the art facilities, a materials budget of $3,000, and support for travel costs to and from Orono, Maine. Housing during the residency is not provided, however the program can provide assistance to find accommodations.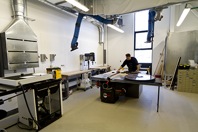 Located on the University of Maine Campus, our brand new IMRC Center is a 15,000+ square foot facility that provides comfortable, state of the art prototyping facilities, audio and video production spaces, a resource library, performance and installation spaces, classrooms, and offices. Outfitted with a variety of tools and equipment, including a full shop, 3D printers and 3D scanner, computer controlled machine tools, a cutting and engraving laser, plastic vacuum former, large format printers, a range of design and production software, electronics workbenches, video and still cameras, audio recording and mixing equipment, and a variety of tools for supporting interactive environments and installations, IMRC Center is a hub for learning, creating and producing.
To apply please follow the link below to complete your application to the Residency program. You will be asked to:
Complete the online application. The application will ask for the contact information of three references. Letters of reference are not required.
Submit a current resume or CV PDF. Collaborative teams must submit individual resumes/CV.
Upload up to 10 images, video and/or audio clips of your work created in the last two years. (Files should be pdf, doc, docx, xls, csv, txt, rtf, html, zip, mp3, wma, mpg, flv, avi, jpg, jpeg, png, gif and should not exceed 2M for images or 7M for audio or video files.)
Provide image description for each image file (title of work, date executed, media and dimensions). Add any brief narrative necessary to inform the jury about each individual work.
Submit a Statement of Interest. Please provide a short statement, not to exceed 500 words, on the nature of your interests in the residency and plan and approaches for research conducted during stay.
For more information and to apply to the residency program:  http://www.imrccenter.com/programs/residencies-fellowships-and-student-support/.
For more information about IMRC: http://www.imrccenter.com.
For more information about the Intermedia MFA: www.intermediamfa.org.
For more information about the New Media Program: http://newmedia.umaine.edu.
The IMRC Researcher in Residence Program is made possible by support from the Intermedia MFA Program, the New Media Department, and the Alston D. and Ada Lee Correll New Media Fund.
For further information contact the IMRC at imrccenter@maine.edu.