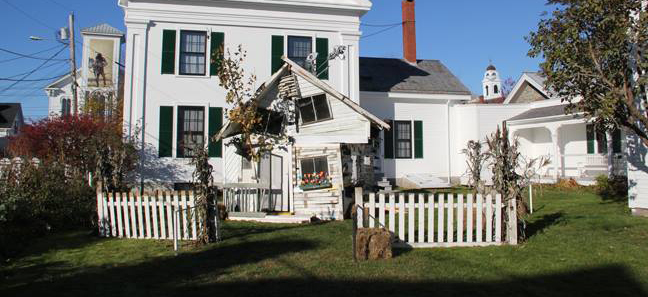 IMFA and IPhD Students Participate in Collaborative Work at the Farnsworth Art Museum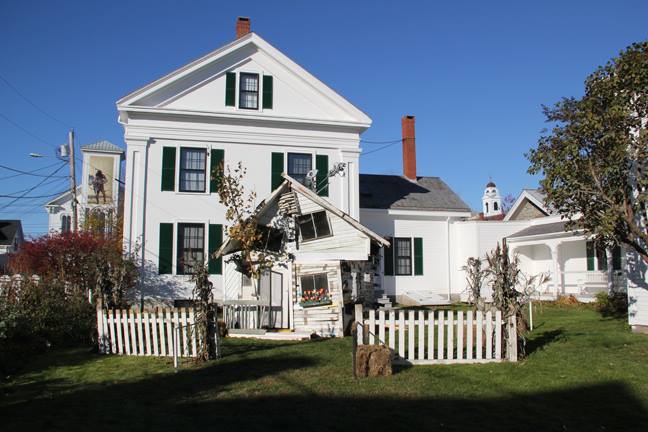 An interpretation of Dorothy's House by Resisting Entropy
This structure is an interpretation of Dorothy's house from the 1939 film, The Wizard Of Oz. Based on the 1900 book by Frank Baum, the movie's opening segment in Kansas concluded with Dorothy's house, having been lifted from earth by a tornado, plummeting to the ground in the land of Oz, inadvertently killing the wicked witch of the east.
The piece was created by Resisting Entropy, a group of artists who work collaboratively within a condensed time frame and shared space. Participating artists are presented with a large volume of discarded materials, and over 24 hours work and live together to transform the materials into unique and unpredictable artworks.
The project was undertaken in conjunction with the Farnsworth Art Museum exhibition The Wonderful World of Oz: Selections from the Willard Carroll/Tom Wilhite Collection now on view in the Crosman gallery.
To see a video of the project, visit: 
https://vimeo.com/78335433
The artists who participated are:
Jared Cowan
Andy White
Bethany Engstrom
David Allen
Eric Leppanen
Trelawney O'Brien
Alexis Iammarino
Siglinde Langholz
Owen Cartwright
Greta Van Campen
Susan Smith
Jonathan Laurence
Ashley Seelig
Sean Taylor