MFA Takes Over Pixxelpoint New Media Arts Festival in Slovenia!
University of Maine faculty member Owen Smith and Intermedia MFA student Reese Inman recently traveled to Italy and Slovenia to participate in the Pixxelpoint New Media Arts Festival. This year's event was the 12th annual and was entitled "Lets Get Ready."  According to the Festival organizers the name Let's Get Ready ". . . merely defines a space of engagement driven forward by a generative force: "to begin again from the beginning" for those who seek what formulates new media art in its fluent transition between the various manifestations, which can take on new meanings in multiple contextual re-configurations no matter what of their materiality or mediality."
[fusion_builder_container hundred_percent="yes" overflow="visible"][fusion_builder_row][fusion_builder_column type="1_1″ background_position="left top" background_color="" border_size="" border_color="" border_style="solid" spacing="yes" background_image="" background_repeat="no-repeat" padding="" margin_top="0px" margin_bottom="0px" class="" id="" animation_type="" animation_speed="0.3″ animation_direction="left" hide_on_mobile="no" center_content="no" min_height="none"]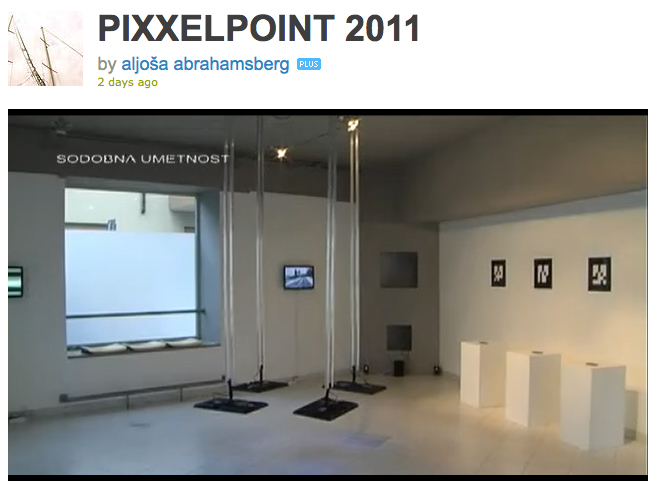 The various events of the festival included exhibits, talks, and musical and other performances and were presented at a variety of locations throughout Nova Gorica, Slovenia and Gorizia, Italy. Owen Smith and Reese Inman were presenting their work as part of a specially selected group exhibition in the Festival highlighting the Intermedia Program and New Media Department at the University of Maine. This exhibition, at the Galleria Metropolitana in Gorizia Italy, presented installations, video works, sound art, and interactive works by Intermedia Students Justin Taylor and Reese Inman, Intermedia Alumni John Bell, Alex Gross and Abby Stiers, and Faculty members Owen Smith and Sheridan Kelly. The Festival was kicked of by a short talk by Owen Smith at the Galleria Metropolitana the opening events were attended by over 600 people. Two works in the presentation of Maine new media art, Inman's Times Square Garden and Gross' Flocking were nominated for the Jurors Festival award.
Reese Inman – Times Square Garden, three channel video projection
Alexander Gross – Flocking, projected generative video installation
Pixxelpoint is one of the most successful and renowned festivals of new media art in Slovenia and also abroad. Its purpose is firstly, to bring the information technology and new media art closer to the general public, and secondly, to raise awareness about a different potential to use computer among the young.
[/fusion_builder_column][/fusion_builder_row][/fusion_builder_container]